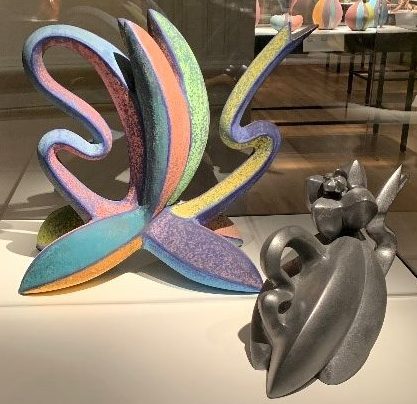 Michael Sherrill's Retrospective
A gallery filled with organic, fruit-like sculpture, Michael Sherrill's exhibition Retrospective contains art of teapots to porcelain pieces connected by steel inspired by Appalachian plants.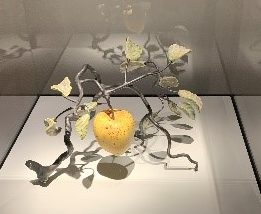 When entering his exhibition displaying his earlier works, the viewer is met with an abundance of teapots. Some of these teapots are abstract and do not exactly look to be teapots. In "Happy to See You," Sherril begins to use organic form and pastel color that is prevalent is his more modern day works. The main form of the piece is that of Rhododendron leaves sticking up. The pieces title is metaphorical in contrast to the pieces shape which gives subtle but erotic humor. The color of the piece is like the consistency of oil pastels, giving the piece an overall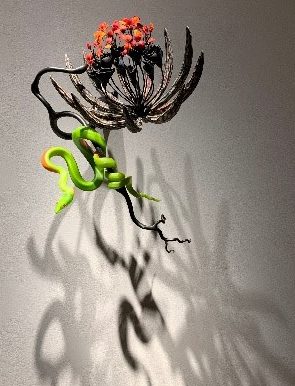 chalky-look.
The next part of the exhibit is filled with sculptures of many various shapes and sizes. One of the first works of art on view is a piece called "Right and Left Brain." In this piece, you see similar colors as "Happy to See You" in the ceramic sculpture farthest to the left, but in contrast to that there is a black sculpture in the same shape as the previous towards the right. They both curve upward with thorn-like points coming out of the edges.
Towards the end of the exhibit, there are many vine-like plant sculptures. In "Brightly Hidden," Sherrill uses visual realism through the plants descriptive detail. As the plant stems from the wall, a bright, green snake wraps around one of the branches staring back at the viewer. The flowering part of the plant almost is radially balanced with the contrast to the branch and snake create an interesting composition. The light within the gallery itself create shadows upon the wall which work with the piece and various other pieces within the exhibit. It makes the work overall stronger than if it were just on a plain white surface.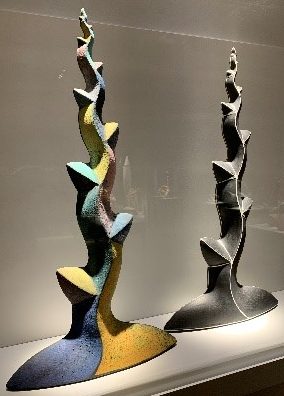 Another piece in this show titled "What the Eye Sees" is a piece Sherrill uses to visually explain his inspiration which is through his adventures upon the Appalachian Mountains. The piece itself is a golden apple centered upon a vining, silver branch. There a few, withering, yellow leaves upon this branch. He uses this piece in connection to memories of his friends who had an apple orchard, in which he wants the viewer to be able to make their own personal connections to the work.
Retrospective is on view at the Renwick Gallery in Washington, DC until January 5, 2020.