Shenandoah National Park Has Officially Closed Until Further Notice
Follows Footsteps of Three of the Busiest National Parks
Shenandoah, Va.- On March 24, the National Park Service announced the closure of three of its busiest parks: Yellowstone and Grand Teton, which are both in Wyoming, and the Great Smoky Mountains in Virginia. Two weeks later, on April 8, Shenandoah National Park, also in Virginia, followed suit and officially closed the park due to concerns over not maintaining Centers for Disease Control and Prevention guidelines to prevent spreading the coronavirus.
The CDC says the best way to prevent the spread of the coronavirus is to avoid gatherings, large crowds and face-to-face contact with others. 
Social distancing is one way for people to help prevent the spread of the coronavirus. This means working to stay six-feet away from others at all times. 
With the high amounts of visitors, the Shenandoah National Park was receiving officials felt that the government's guidelines for social distancing were not being met.
The National Park Service decided to close Shenandoah National park upon advisement of the Rappahannock Rapidan Health District of the Virginia Department of Health.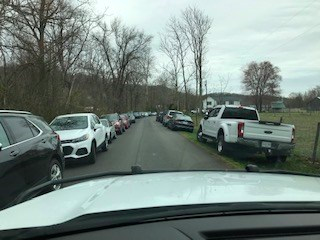 Response Timeline
Since March 18, Shenandoah National Park has been making adjustments due to concern over the coronavirus. The park started out by delaying the opening of Big Meadows and Lewis Mountain campgrounds. Then closing popular trails and access roads. 
On March 26, the park announced that all restrooms are closed and the backcountry is closed for camping as well.
On March 29, all facilities in the park are closed. 
On April 4, the park announced it was closing everything to vehicles except the 40-mile stretch from Swift Run to Rockfish Gap. Skyline Drive from Front Royal to Swift Run was open to pedestrians, bicycles and other non-motorized vehicles. All visitors needed to leave by 8 p.m. as the park would be closing daily from 8 p.m. to 7 a.m. All picnic grounds were also closed on April 4. 
Four days later on April 8 the park was completely closed until further notice. 
Disappointed but Necessary
Frequent hiker and Shenandoah National Park visitor Danielle Martlock said she visits the park about "two times per week." 
She said her most recent trips have been "wonderful" but she has noticed "much more foot traffic on common trails."
Martlock said she feels she has seen the park recently be overly crowded to the point of violating CDC guidelines and the measures the park has taken were needed. 
Another frequent park visitor, Katie Shenk, said she visits the park "a few times a month." 
Shenk said on her most recent visits there were more people than she expected there to be. 
She also said that while it was "saddening" to see the park close she understood the need for it and felt like it as a "good idea."
See the Park From Home
The National Park Service has many digital tools that the public can take advantage of during this time of closure like their website where one can find photo galleries, videos and webcams or their YouTube channel and other social media sites.