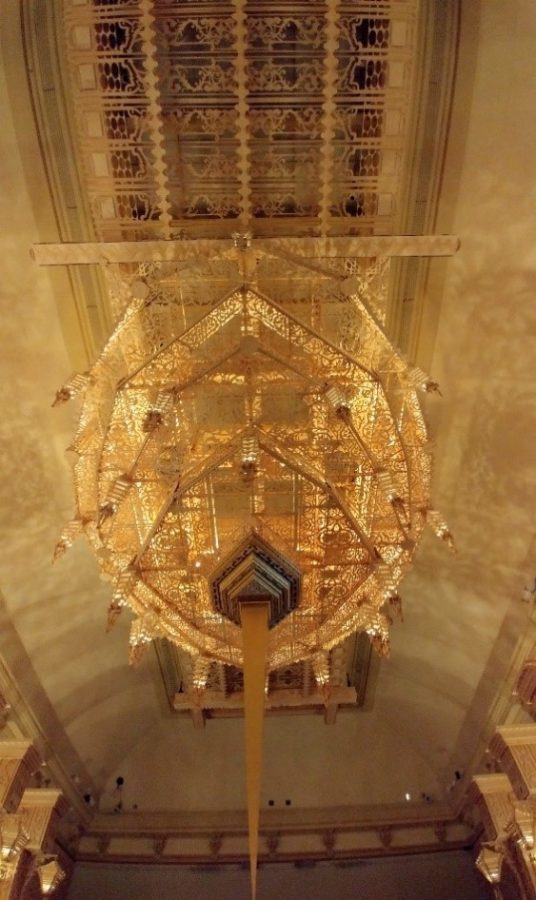 David Best's Temple
David Best's intricate wooden temple is an exhibit like no other. The moment of entering the Temple was overwhelming yet powerful because the content within the Temple has meaning, and immediately invokes a reaction in those who view it.
Best is well known for the construction and design of exactly half of the Burning Man Temples since 2000. The public is encouraged and welcome to add memorials and inscriptions to the Burning Man Temples, which will later, be engulfed with flames.
Best has a core group made up of volunteers from each community he works in, known as the Temple Crew  Best's goal by doing this is to promote healing and support within the community. The Temple at the Renwick Gallery will not be burned right now, although it is unsure if it will be burned after taken out of the Gallery.
The Temple is made up of thin wood, in certain areas layered, that has been cut in various designs. The designs are then put together to create one whole object. The Temple is intricate, emotional, and sacred.
David Best paid much attention to detail which made it seem more fragile; almost untouchable. What made it emotional was the interaction with the piece. The public was able to write on a rectangular piece of wood, whether an inspirational note, a message to a loved one, or an apology. They were then able to place the piece of wood with their message within any space available in the Temple. Memorial cards and pictures were also encouraged.
Visual components in David Best's Temple include shape and texture. If the wood was not shaped, the Temple would become a different experience. The shape allows viewers to admire the time and dedication Best and his crew put into the Temple. If the wood did not have intricate shapes, it might have seemed dull. The texture of the wood was consistent throughout the Temple; smooth, solid, and thin.
The lighting was dim but gave off a warm light and upon entering the Temple, the smell of wood is apparent. The scent makes the Temple seem new, like it was just constructed the day before.
When analyzing the Temple, it was difficult to figure out a good place to start. There is not a specific route to follow, but this can make it overwhelming.
The Temple can be compared to a mausoleum, except for the fact that it is only memorials and writing. Overall, the Temple by David Best was a soulful experience.