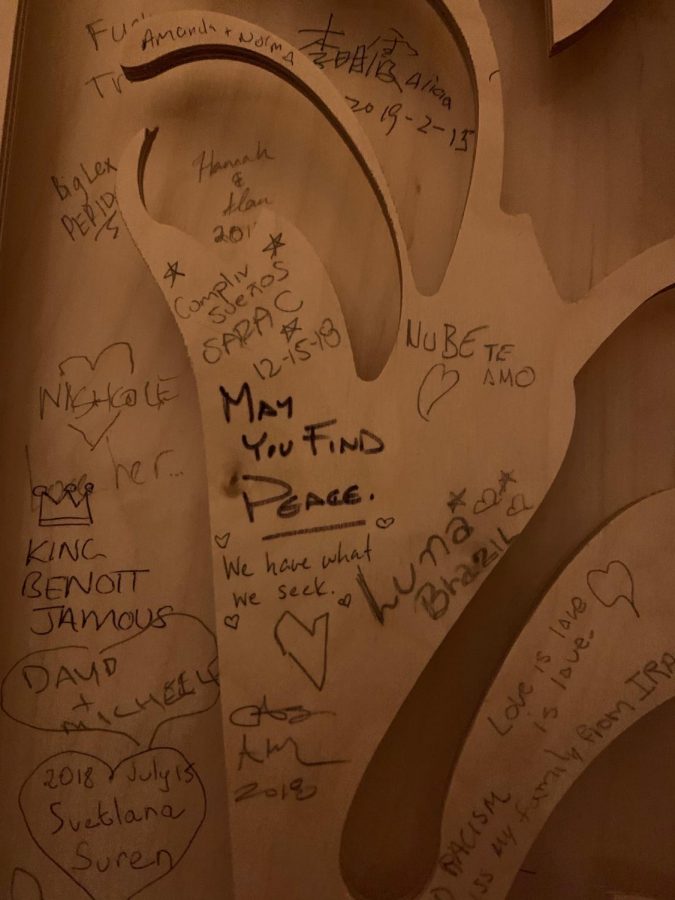 David Best's "No Spectators, The Art of Burning Man"
David Best is an American contemporary sculptor born in 1945. Best's work mostly consists of sculptures built from recycled wood. Typically, the art of his work is within burning down the temples he has built. In his installation in Washington D.C., the beauty of the art is what the people put inside of it.
The temple is located at the top of the staircase in the gallery. After climbing the long stairs to the center entrance of the temple, the temple greets viewers with a warm glow of soft lighting.
After entering the temple, the overwhelming amount of silence takes over. There is slight noise coming from the creaking of the floor as people are walking around the large installation. Soft sniffles of the people in the temple also occupy the space.
The space is large and very open. The space consists of high ceilings and long walls both covered from top to bottom in recycled wood.
Each wood piece along the walls are carefully designed. The lights let off a dim yellow glow, making the space feel warm and welcoming.
Although the lighting is dim, it is still easy to find a way though the temple. When walking through the temple, there are little marks on the wooden walls. The marks on the walls are from past visitors of the gallery, leaving their mark in the temple. People are welcomed to write messages on little blocks of wood provided in the center of the room on a small square table.
The idea is to write a message and leave a mark in the temple. The viewers become a part of the art and building the temple into what it has become today. A lot of the writings on the wall are religious or have something to do with someone passing. The viewers add the emotion within the temple.
The temple is a safe place for grieving people to have a connection with their passed loved ones. The warm glow of the light keeps previous viewers coming back. It is a nice place to have a relief from reality. The temple is truly a heartwarming space. David Best's "No Spectators, The Art of Burning Man" is a place to find closure and connections of those who need someone.