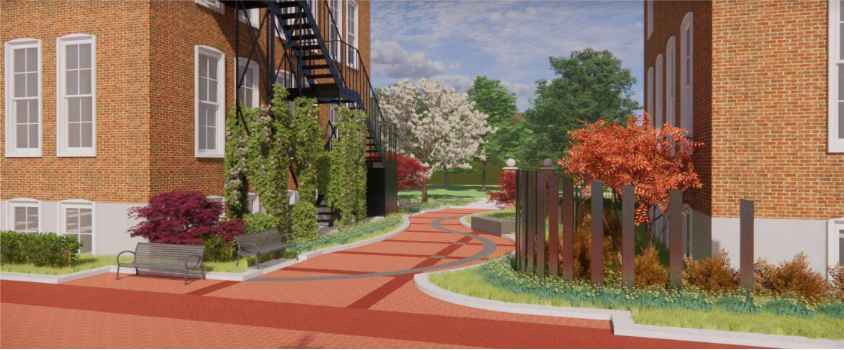 Memorial Site Groundbreaking Gathering
Bridgewater, Va.- On Feb. 1, the one-year anniversary of the Bridgewater College shooting, a gathering of remembrance and fellowship occurred at the future memorial site for Police Officer John Painter and Safety Officer J.J. Jefferson.
The gathering marked the start of construction for the future memorial site, which will be in the Bowman Plaza between Memorial Hall and Flory Hall leading to the Jopson Athletic Complex. 
The 30-minute event consisted of an invocation, remarks, ringing of the bell by Professor of Music Larry Taylor and a performance of "Bridgewater Fair" by Department Chair and Associate Professor of Music Christine Carrillo. 
Among the speakers at the gathering were College Chaplain Robbie Miller, Chief of Campus Police Milton Franklin, junior Karis David and President David Bushman. 
"Today I am focused on being grateful," said Franklin during his speech. "Like you, I am very grateful to John and J.J. for protecting us on this campus, the place that they love, where they were loved by students and employees."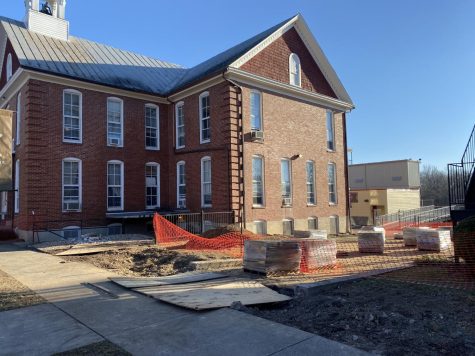 The front lawn of Flory was packed full of faculty, staff, family members and students well before 1 p.m., the start time of the event.  
David, the student speaker, focused on being a voice for the student body through her speech, while still honoring the differences each student has in their healing process.
"It felt important that students had a voice, while I also was pretty terrified to do it because everyone had a different experience and processes differently," said David. "I just wanted to make sure everyone felt seen and encouraged without sugar-coating or trying to smooth things over. I just wanted to be real and raw about it. It felt like a big task."
During her speech, David referenced "The Little Book of Trauma Healing," which she read for her conflict transformation class this semester. 
"I added the song at the last minute because I had 'Bird Song' somewhere else in my speech, and it made me think of the song," said David. "I had sung that song in middle school chorus and remembered my teacher telling us the story of where the song had come from, so I looked it up again, and it felt like it really resonated this time around."
Bushman released renderings of the site in an email to faculty, staff and students on Jan. 19.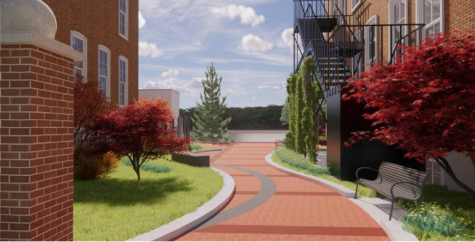 "The memorial sculpture design is steel piers growing closer and taller, and a graceful, arching wall that is based on the concept of individuals coming together," said Bushman during his speech. "It is meant to commemorate the actions of John and J.J. who acted together, protecting us."
Construction on the memorial site will continue throughout the spring semester. The completion of the memorial site is set for late summer, along with a public dedication event around the same time.