Monica Lewinsky Speaks at Bridgewater
Social Activist Gives Insight on Public Shaming
Bridgewater, Va. – On Oct. 17, social activist Monica Lewinsky gave an endowed lecture in the Nininger Hall gym to a crowd of approximately 900 people. Lewinsky's lecture focused on public shaming and the need for a compassionate dialogue among internet users.
Lewinsky identified herself as "patient zero" in the area of public shaming, as she was publicly humiliated on a global scale in 1998 while working in the White House.
Lewinsky said, "It was a scandal brought to you by the digital revolution." Her ordeal happened at the same time as the emergence of the internet, so not only was her name on the radio and in newspapers, it was also smeared online.
She referenced how she wanted to die after independent counsel Kenneth Starr published his  445-page report following a four-year investigation of the Clinton White House. She knew that everyone with a dial-up connection could read her most embarrassing moments.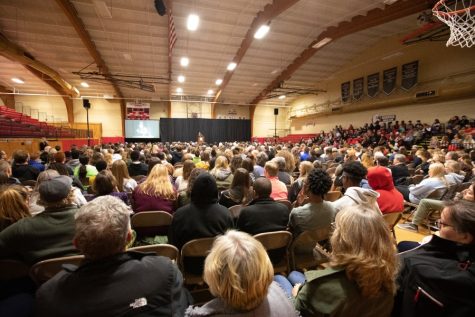 She said that she felt, "seen by many, but truly known by few" during the ordeal. It led her to take a 10-year break from public life. 
In 2014, Lewinsky wrote an essay for Vanity Fair magazine and gave a lecture at a Forbes Under 30 Summit, to start reclaiming both her name and narrative.
Lewinsky said that the turning point which made her realize that she needed to step back into the public sphere was the story of Tyler Clementi, a victim of cyber-bullying at Rutgers University, who committed suicide in 2010 as a result. 
During the lecture, she spoke about Clementi and how ordeals like his have spread a culture of humiliation and that humiliation is at the core of many current societal issues.
Lewinsky said that society must change its behavior in order to change the overall narrative about public shaming. She believes that individuals must look at all of the shared beliefs that they hold, and then a cultural revolution must be sparked in order to create a culture of compassion and empathy.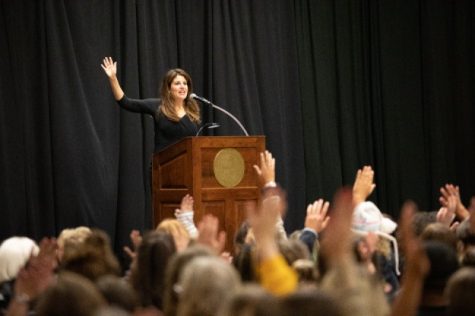 Today, Lewinsky is involved with many different social activism groups and organizations and promotes a message of empathy and compassion online.
Lewinsky's goal is to use her experiences to change how social media users click through their feeds, as she implored the audience, "to click with compassion." She wants users to think about what they post and share before they publish the message, to make sure that it is not contributing to the culture of humiliation.
"We learn empathy through experience," said Lewinsky.
The social activist ended her lecture by showing a recently-released public service announcement about cyber bullying and public shaming. The PSA was interactive, where viewers could enter their phone number to then receive the same messages that the subject did, which allowed viewers to empathize by going through exactly what the subject went through.
There were many students who attended the lecture who found it incredibly meaningful. Bridgewater senior Allisa Coles said, "I definitely enjoyed the lecture, it was not what I was expecting. I think it was very clear that what she was speaking about came from the heart, and that it was still very fresh and raw and upsetting to talk about. I think that gave the lecture a more positive impact on us."
"I thought the lecture was very insightful and moving. It is so amazing to see Monica taking her experiences and using them to make a positive difference in fighting against bullying and public shaming," said Bridgewater junior Shaina Breeden, who was another student who found the lecture eye-opening. 
The lecture was not the only facet of the event that students related to. Many students took to Lewinsky's message, as Bridgewater junior Devon Demartino said, "I think she is sending a good message. It comes from personal experience, which gives her a lot of empathy for people who are going through a similar problem, but on a much smaller scale."
This lecture was announced as being off-the-record to all local media outlets, which means no reporters could record or quote Lewinsky directly; however, BCVoice was given special permission to publish this story.
About the Contributor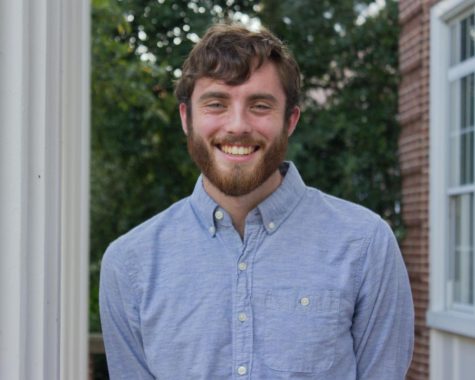 Holden Andrews, Editor in Chief
Photo by Mary Monaco
Communication, Technology,...