Lucky Ducky
CEAT celebrates National Rubber Ducky Day
Bridgewater, Va. – On Friday, Jan. 13, CEAT members hid 200 rubber ducks, all numbered with potential prizes, around Bridgewater's campus at 4:30 a.m. in anticipation of National Rubber Ducky Day. 
What's New?
As an annual tradition, 200 ducks are hidden on campus outside between Dinkle Avenue, Third Street and East College Street. This year, prizes included candy bars, Smitty's gift cards, BC Bucks and the rubber ducks themselves. 
"National Rubber Ducky Day is super fun because of what we do in CEAT to bring it to life," said junior CEAT member Mae Lotts. "It would honestly be looked over, but not at Bridgewater. It is fun to see students wake up, not realize the day, and find the ducks outside. It makes waking up at 4 a.m. worth it." 
Why it Matters?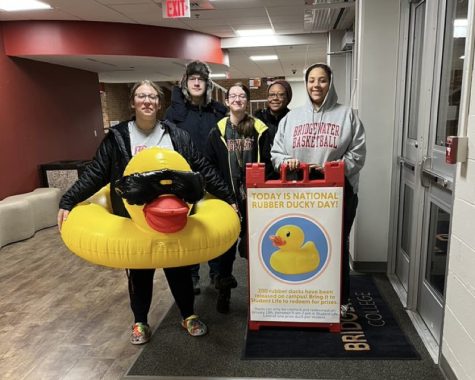 All of the ducks were hidden in accessible places, no more than five feet from the ground, and avoidant of any construction zones. After finding a duck, students were to turn them in to Student Life for a prize.
"I have never heard of it until last year when they did it. It's a cool little event. I am going to put it in my jeep because I have other ones in there," said sophomore Zach Coburn "It's called 'ducking' people's jeeps, so sometimes people put random ducks on your jeep." 
Celebrating National Rubber Ducky Day allows Bridgewater to stand out from other neighboring colleges in a unique way. 
"Celebrating little holidays like this creates campus engagement and community," said Lotts. "It brings happiness and just starts the day off with good energy. These little holidays also help create traditions that would be difficult for larger campuses."
What's Next?
CEAT plans most of the college's weekly events including an upcoming spring formal. If you are interested in joining CEAT and the student planning committee, email club advisor Whitney Smith at [email protected].