Bridgewater Eagles Keep Clean Sheet Against EMU
Women's Soccer Pick Up Sixth Straight Win
BRIDGEWATER, Va. – Bridgewater College picked up their sixth straight win in a 2-0 victory against local rivals Eastern Mennonite University.
The Eagles scored their first goal of the day in the 18th minute. Junior winger Cyan Coates picked up her fourth assist on the season when she crossed the ball to the top of the box where senior midfielder Sydney Ryan was waiting to receive the ball. Ryan controlled the ball and shot it left-footed where it nestled into the side netting, out of the reach of the EMU keeper to put Bridgewater up early in the match.
The Eagles ended the half on top 1-0. They outshot EMU 7-4 in the first half and both keepers finished with two first half saves respectively.
Throughout the second half, Bridgewater dominated the game, outshooting EMU 10-1 entering the final ten minutes of play.
In the 83rd minute, Bridgewater earned themselves a corner. Sophomore creative midfielder Hanna Randolph crossed the ball into the middle of the box. EMU were first to the ball and headed the ball clear. Freshman left back Lexi Winkler picked up the ball at the edge of the box and decided to test the EMU keeper. EMU keeper Leah Wenger made the save but could not hold onto the ball as it rolled into the path of freshman attacking midfielder Kaia Richardson who was first to the loose ball and scored the second goal of the match for Bridgewater and her goal tally on the season.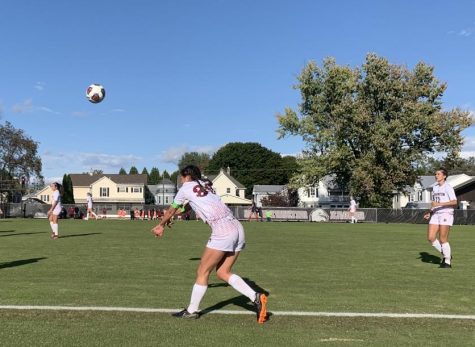 Bridgewater College's junior goalkeeper Sydney Davis picked up her third clean sheet in the last four matches and recording three saves in the process.
The victory for the Eagles was their 11th-in-a-row against EMU. The last win for the Royals was in 2008.
Bridgewater moved to 9-5-2 on the season and then 5-2 in the ODAC.