Race and Justice in America Today
Jelani Cobb to Speak at Bridgewater College for MLK Celebration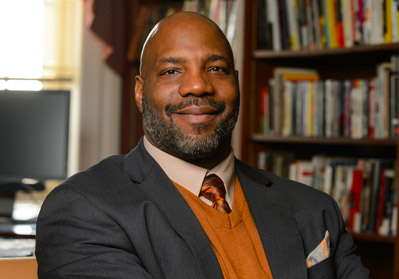 Bridgewater, Va.- On Monday, Jan. 20, Bridgewater College will host Jelani Cobb for an endowed lecture in Cole Hall at 7:30 p.m. 
The lecture is sponsored by the W. Harold Row Symposium and is free and open to the public. Cobb's lecture will be a part of Bridgewater College's observance of Martin Luther King Jr. Day. 
The college has cancelled classes on Jan 20, allowing students to observe the day and to participate in the college's events. (A schedule of events for the celebration can be found at https://www.bridgewater.edu/martin-luther-king-jr-day-celebration/.) 
As a staff writer for The New Yorker, Cobb frequently writes about the complexity of race in America. He has written articles about race, the police and injustice, which includes "The Anger in Ferguson," "Murders in Charleston" and "What We Talk About When We Talk About Reparations." Cobb's lecture will be about "The Half-Life of Freedom: Race and Justice in America Today."
Cobb has also written books titled Substance of Hope: Barack Obama and the Paradox of Progress, To the Break of Dawn: A Freestyle on the Hip Hop Aesthetic and The Devil & Dave Chappelle and Other Essays. 
Cobb currently has a new book in the works that will be titled Antidote to Revolution: African American Anticommunism and the Struggle for Civil Rights, 1931-1954.
Cobb was also a featured expert in the Discovery series "Why We Hate." According to its website, the series "explores one of humanity's most primal and destructive emotions – hate. At the heart of this timely series is the notion that if people begin to understand their own minds, they can find ways to work against hate and keep it from spreading."
Cobb has been awarded the Walter Bernstein Award from the Writers Guild of America for his investigative series "Policing the Police" which aired on PBS's Frontline.
Not only is Cobb a writer, he was a former associate professor of history at the University of Connecticut. While in this position, he served as director of the Africana Studies Institute. Lastly, Cobb has received fellowships from the Fulbright and Ford foundations.