Men's Basketball Defeated By The Tigers
Eagles Trail By Twelve in Their Seventh Conference Game
BRIDGEWATER, Va. – Before the game on Saturday evening, sophomore forward Kellan Hodge expressed that the team should put up a good fight against Hampden-Sydney. "Hampden-Sydney has a good team, but we had a good week of practice and I think this is going to be a really good game," says Hodge. 
The Tigers got a quick start and had a 14 point lead in the first seven minutes of the game. Senior forward Davrion Grier scored the first ten points for the Eagles and ended the game with the high of 26 points in total. 
Freshman guard Chase Turner hit a three-pointer to give the Tigers their biggest lead of the half with almost five minutes remaining in the first.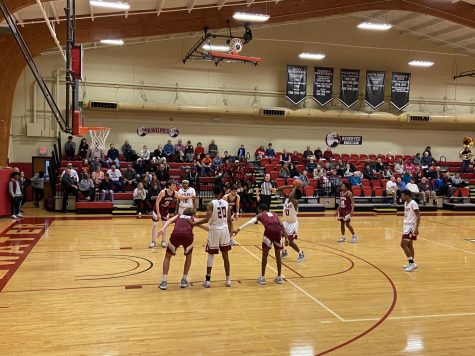 Bridgewater responded with a dunk by Grier and a three-pointer by senior guard Chandler Murray to raise the score to 24. With only 14 seconds left, senior forward Jack Wyatt scored a layup to end the half with a 42-24 lead against the Eagles.
The Eagles started the second half with five points by Murray and a layup from sophomore guard Liam Caswell – to trail by just 12 points. 
With five minutes left in the game, two foul shots by freshman guard Jalil Langston pulled the Eagles within ten points.
A combined four points by Grier and Langston, decreased the deficit to seven with a minute and a half left. 
The Eagles were able to score another three points in the last minute, but it was not enough to take the lead against the Tigers. 
Five players from Hampden-Sydney ended the game in double figures. Wyatt led with 18 points, as well as 15 rebounds – leading the Tigers to a 50-31 advantage.
Now 2-5 in their conference and 6-10 overall, the Eagles will play again on Wednesday, Jan. 22 at Shenandoah University.