New Faces on Campus Safety Team
Bridgewater College Hires Three New Officers to Join Campus Police and Safety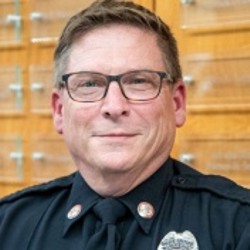 Bridgewater, Va. – Campus Police and Safety welcome the addition of one new police officer and two new safety officers to their team. 
Kelly Zander is a new police officer this year at Bridgewater College. Zander has experience as the Rockingham County sheriff from 1994-2002. Zander also worked for the Massanutten Technical Center teaching criminal justice from 2004 to 2018.
Officer Josh Bacon is a new safety officer on campus and is a retired Dean of Students from James Madison University. Bacon has had years of experience in higher education and in student conduct as well.
Officer Joe Lombardo is a new safety officer. Lombardo is a retired firefighter from Stamford Connecticut from 1999-2019. Lombardo is also a decorated veteran serving as a Sergeant on a fire support team overseas.
"We are all excited to have them on our team, and they are excited to meet and interact with our students," said Tella Klein, the assistant to the chief and the communications officer.