'New Eagle in the Nest for Men's Basketball'
Bridgewater College Men's Basketball Team Welcomes Sam LaClair to the Coaching Staff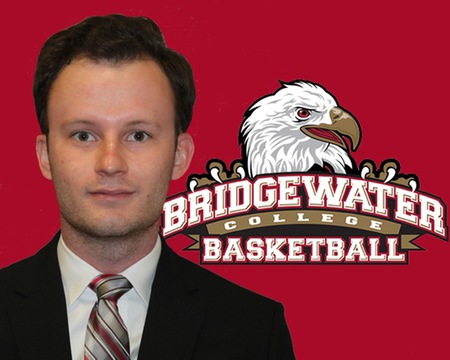 Bridgewater, Va. – On Oct. 20, the Bridgewater College men's basketball team announced the addition of new volunteer assistant coach, Sam LaClair. 
LaClair is a former student and student assistant coach at Staunton High School (formerly known as Robert E. Lee High School), and a current Bachelor of Science student at James Madison University. 
"[I have] always liked the game. I've always enjoyed watching it and playing it. But I never really took it seriously, until my 10th grade year," said LaClair.  
In his sophomore year of high school, head coach Jarrett Hatcher approached LaClair about being a manager for the basketball program at Staunton High School. LaClair says that experience altered his interest and passion for basketball. 
Hatcher is also currently a part of the coaching staff for men's basketball at BC. 
"I ended up really enjoying it, then I kind of fell in love with the game. I was really intrigued on the coaching side of things. I was kind of a manager and a student assistant coach at the same time. I did that for three years and I loved it," said LaClair. 
After graduating from Staunton High School, LaClair went back and continued as a varsity assistant coach for the team under Hatcher. After two seasons, LaClair continued coaching as a varsity assistant coach at Eastern Mennonite High School. 
This past season, in addition to being the varsity assistant coach, LaClair was also the head coach for the JV men's basketball program at Eastern Mennonite. During this time, LaClair led his team to the conference championship. 
"I don't know if any one [moment] stands out any more than all the others," said LaClair. "I have been fortunate enough to be a 4-straight State Championship appearances (2A and VISAA Division III levels), with one win in 2017 — they were all incredible experiences. But I think, for me, any time that I have the opportunity to to coach basketball, that is a highlight for me." 
LaClair said this thankful mindset has been formed and heightened in response to the COVID-19 pandemic. 
"That has been particularly shaped by the last six months of uncertainty and periods of time of not being able to coach basketball. All of that amplifies how thankful I am any time that I do get to coach," LaClair said. 
Enright recently expressed the components of the game that he intends to accommodate with LaClair's skills for the Eagles. 
"He is very intelligent and understands the game, and should be able to help us on many fronts, including in scouting, video, and player development. Additionally, he gives us another local connection," said Enright. 
"I'm really excited about the chance to work with this team. I think that we have a great group of guys . Also, [I am] incredibly excited and grateful to get the opportunity to work with and learn from the great coaching staff," said LaClair.