Returning to the Rink for the Winter Season
Bridgewater Ice Skating Rink Adjusts to COVID-19 and to Contractual Expiration with BC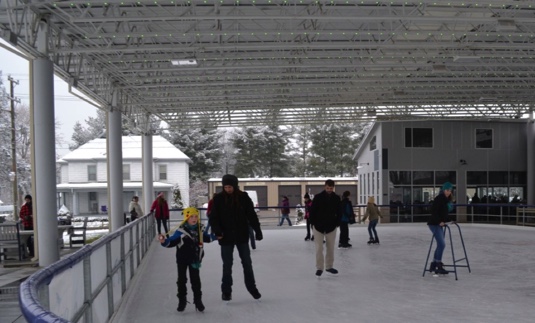 Bridgewater, Va. – The ice skating rink at Generations Park in the Town of Bridgewater is set to open for the 2020-2021 season on Thanksgiving Day, Nov. 26. 
The town staple is making adjustments for COVID-19 and approaching the expiration date of the contract between Bridgewater College and the Town of Bridgewater. 
As for COVID-19 adjustments, the Town of Bridgewater has decided to streamline the ice skating process. With the new system, guests have the option of signing up for an hour long skating session online and purchasing tickets for that session at ThunderTix. 
"Since we opened Generations Park Ice Skating Rink in 2015, we have had big crowds on Friday and Saturday evenings. These crowds at times cause long lines," said Parks Coordinator Tess Croy. "Due to COVID-19, we decided this is the year to open up online ticketing with the hopes of this cutting down the long lines at the Rink." 
Each ice skating session will have a maximum of 40 skaters and a limited number of rental skates will be available for $4.00. In between the hour skating sessions is a 30 minute period to sanitize and Zamboni. 
"I truly think this will allow good social distancing on the rink and skaters will have more room to skate, unlike some of the nights last year where there were 80 skaters on the rink. The ice skating experience will be more pleasurable for everyone," said Croy. 
"I think those adjustments seem like a pretty good idea, that way people can sign up to skate together but it's safe to do with Covid. I'm definitely planning to go once they open back up again," said freshman Lizzie Mumbert. 
This new system of reserving skating spots and tickets online affects Bridgewater College students who have traditionally ice skated at Generations Park for free with their student ID cards. 
BC students now have the option of purchasing a regular $5.00 ice skating ticket online or they can plan ahead by visiting the skate room at Generations Park, prior to a skate session time, to pick up a free ticket. 
Town staff recommends that students pick up free tickets well in advance. However, the option of picking up a free ticket and ice skating at no cost will expire at the end of next month. 
"The current contract between the Town of Bridgewater and Bridgewater College that allows students to skate for free does expire December 31, 2020," said Croy. It is unknown at this point if the contract will be renewed. 
"Ice skating is a very popular thing," said sophomore Ben Riddle."If payment becomes the option people will not enjoy it as much."