Bridgewater College Celebrates Martin Luther King Jr.
Virtual Event Schedule for MLK Day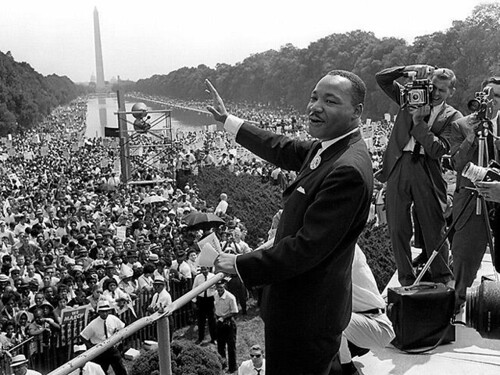 Bridgewater, Va. – On Jan. 18, Martin Luther King Day, Bridgewater College will hold a virtual celebration featuring videos from students, speeches from the Town of Bridgewater and lectures exploring the importance of the Civil Rights Movement.
On Jan. 11, Student Life accepted submissions from students explaining why they are honoring MLK Day. These submissions are brief videos or photos where students reflect on King's legacy. Student submissions will air on Jan. 18 during a Facebook event at 10 a.m.
During the Facebook event, there will be a variety of speeches from the College and the Town of Bridgewater as well. 
"There will be remarks and speeches read by students, the Town of Bridgewater, Ted Flory and Dr. Bushman," said Assistant Director of Student Development Keon Nesmith. 
After the Facebook event, faculty members plan to facilitate presentations and conversations about the Civil Rights movement from several viewpoints. 
Department Chair of Music Christine Carrillo will host a lecture on jazz music during the Civil Rights movement at 12 p.m, followed by a history lesson from Professor of History and Political Science Stephen Longenecker at 1 p.m.
Professor of English Alice Trupe will discuss young adult literature on the Civil Rights Movement at 2 p.m. According to Trupe, discussing literature on MLK Day is essential to promoting the racial representation that King dedicated his life to achieving.
"Young readers need to see themselves in the books they read, and until the last couple of decades, books published for young readers focused on white characters. Children and teens of color need to see diverse protagonists in their reading, just as white children and teens need to empathize with diverse protagonists," said Trupe.
Department Chair of Philosophy and Religion Laura Yordy will host a lecture on social justice within black churches at 3 p.m. 
The final presentation is an endowed lecture from Blair Kelley, author of "Right to Ride:  Streetcar Boycotts and African American Citizenship in the Era of Plessy v. Ferguson."
Kelley's endowed lecture will begin at 7 p.m., concluding the MLK Day celebration. 
The zoom links for these information sessions will be posted by Jan. 15.