Go Greek! Join APO
Bridgewater College Students Attend Fall Recruitment Week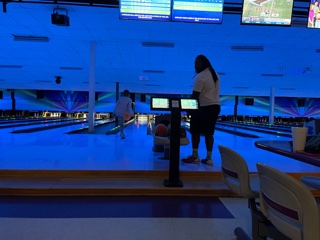 Bridgewater, Va. – Bridgewater College's Alpha Phi Omega had their annual fall recruitment week, Sept. 13-19, in the hopes of gaining new members. Current members attended recruitment week events to meet potential new members and bond with other current members.
Alpha Phi Omega is a co-ed service fraternity and BC's only source of Greek life on-campus. Every semester, APO creates a new theme and comes up with five days of recruitment activities.  
The recruitment activities are for potential new members to attend and connect with current members, who are known as brothers, learn about the fraternity and meet other potential members. 
Junior Hannah Copp, vice president of membership, organized the recruitment events — which included an outer space theme with ice cream and ice breakers, space cookie decorating, game night and galaxy popcorn, a picnic and cosmic bowling.
"I think recruitment week went great. We had a good turnout and fun events," said Copp. "I enjoyed getting to meet new people, hosting events and having fun!"
A few of the current brothers came together to spend time explaining why they decided to join APO, and the reasons they felt the new members would like the fraternity. Most of the brothers said that aside from the service opportunities, they joined to step out of their comfort zones, get involved in the BC community and to meet new people. 
"I enjoyed being able to talk to new people again," said junior Lauren Kronzer, vice president of relations. "I think a lot of people missed being able to be social during COVID-19, and I am just happy we are in a position where some things are able to be normal."
"I think recruitment week went pretty well. We saw a handful of new faces and I feel pretty confident some of them will be interested in joining," said junior Sara Robertson, vice president of fellowships. "I enjoyed the space theme, and the cookie decorating was my favorite part."
APO's executive board and current brothers agree that recruitment week is both an opportunity to branch out and meet new people, and also a chance for fellowship. Fellowships give brothers a time to deepen their relationship with other brothers, as well as to develop a friendship with brothers they may not ordinarily talk to.
"I enjoyed just getting to know new people and introducing people to life on campus and teaching them that what you put in is what you get at Bridgewater," said senior Chris Atkins.
"I enjoyed the conversations we had and getting to know some of my APO brothers better," said sophomore Karis David. "It was also exciting to see several new people interested in APO."
Senior Josh Whittington, who is the treasurer and part of the BC football team said, "I think bowling was a good pastime. It was nice being with friends and it helped with the nerves of having such a big game the next day."
First-years and seniors alike attended recruitment week and got the chance to get a sneak peek into what it is like to spend time with the brothers, as they learned more about what it takes to be a part of the fraternity.
"Recruitment week was like a mini break from reality," said senior Alicia Mccarthy. "I got to meet a bunch of people who made me feel at home and be a part of something bigger than me." 
"Recruitment week was fun," said first-year Emily Poole. "I got to meet new people and be a part of some cool activities."
"During recruitment week, I felt included and welcomed," said first-year Sarah Revercomb. "I am very excited about being a part of this organization, and to create more new friendships."