Jason Asbell is New Head Coach of Women's Basketball
Familiar Face in a New Spot
Bridgewater, Va – Former assistant coach, Jason Asbell, for the women's basketball team assumed the role of head coach early this semester after Sarah Matthews resigned to work as the women's head basketball coach at Guilford — which is also an ODAC school. 
"I knew Coach Matthews from recruiting events before I landed the job here at Bridgewater and I knew it was a time for change, I needed a different perspective, different area, which led me here," said Asbell.
Prior to his arrival at BC, Asbell was head coach for 12 years at Davis and Elkins College in West Virginia. Asbell's connection with Matthews influenced his decision to come to Bridgewater. 
"I was looking to make a move and I knew Coach Matthews a little bit, so after talking with her, I felt like it would be a great fit and a great opportunity for me," said Asbell. 
The women's basketball team was off to a fast and hot start to begin the 2021 season, but after many cancellations and postponements due to COVID-19, the women were forced to miss out on the remainder of the season and the ODAC tournament after just four games that saw them go undefeated during that span.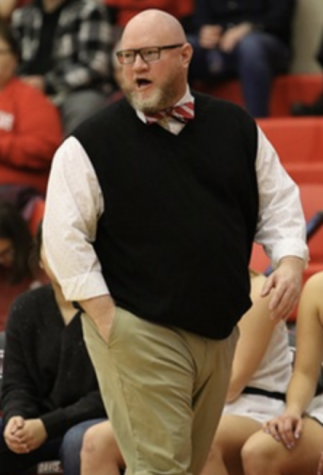 "It's easy to look at last year and say we got the short end of the stick, but they're always two sides to a coin, and the women should look at last year as an opportunity that they were able to play and to have that experience, because some schools didn't get to play at all," said Asbell. 
During that four game span that the women were able to play, they led all of division three with steals per game, averaging 20.2.   
"We did a lot of positive things in such a short amount of time and we're looking to carry everything we did last year to this season and it helps that I was here for all of it," said Asbell. 
Asbell's role during his time as assistant coach was to focus on defense. Asbell was in charge of calling and organizing defensive sets and plays, as well as handling substitutions as the season went on. 
"The girls recognize me and know who I am from last year, so it should be a smooth transition and we want to compete for an ODAC title, that's our main goal," said Asbell. 
According to Asbell, the women lost three players due to graduation and have three returning seniors and one junior, along with 15 underclassmen. 
"Back to my coin analogy, one could say that we're a really young team with little experience, while someone else could look at it as a learning and growing experience since they've never been through the hardships of college sports," said Asbell. 
"We're really excited for the upcoming season, because we'll finally return to having audiences and we can't wait for Nininger Hall to be packed again for our home games," said Asbell. 
The women return to practice on October 15 and open their season on November 13, when they host Emory and Henry College.