IT Center Hosts Ultimate Game Night
Super Smash Bros. Brings Together 'Gamers On-Campus'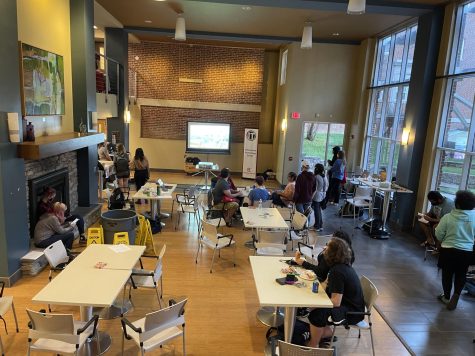 Bridgewater, Va. – The I.T. Center hosted a Super Smash Bros. Ultimate Tournament in the lower level of the Link on Sept. 24. Dozens of Bridgewater College students competed in the tournament. 
"The IT Center decided to host this tournament to give students a fun activity to gather around with some friendly competition," said Systems and Network Engineer Tristan Supples, who organized the event. "Jason (the other person who really helped me get this event planned) and I are very avid gamers and we know there are a lot of gamers on campus, so we figured this event would be a really good way to bring all of the gamers together to meet and enjoy some time together."
Gameplay did not start until after 6:30 p.m. Decks of cards were set on tables throughout the Link, due to the amount of downtime involved before and during the tournament. 
Competitors and spectators sat at tables throughout both levels of the Link to watch the tournament and eat the Taco Bell provided. Some people were surprised and intimidated by the amount of people and noise in the Link, but others enjoyed the sense of community it brought.
"It's nice. It's definitely a different experience, since I don't go to Bridgewater. It seems like there's a good community here," said spectator Lily Dardar. Dardar came to watch her fiancée, a sophomore at BC.
Before the event, competitors signed-up and wrote down three characters to commit to for the tournament. Additionally, they were given a sheet explaining the format and rules of the tournament. 
A projector and screen were set up showing some of the games being played, but it was only used for the first round. Afterwards, many spectators either left or crowded around the individual monitors where games were being played to watch and cheer on their friends.
Four games were played simultaneously. Each game had a six-minute time limit, and winners were determined by either knock-out or who had the most lives at the end of the time limit. Each match consisted of three games, with the winner of the match being whoever won two of the three. 
Due to the quick format of the matches, players were eliminated rapidly. 
"It feels pretty good. My heart was pounding out of my chest that entire time. I adapted, and I won. I got past the first round, that's all I care about," said senior Chris Atkins after he won his first match.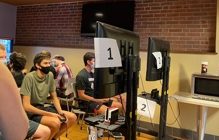 For many players, it all came down to strategy and technique — choosing the characters that are known for being the best or choosing the underdog and taking people by surprise. Since characters were limited and had to be chosen before the tournament, it forced players to plan out their moves in advance.
"My strategy going into this was to use my second best. I can't let them know who my best is and how I play with them. So if I win the first round, then I have to go with my best because I can't lose without using my best character," said Atkins.
"You know what, it was frustrating," said Atkins after losing his second game. "But at the same time, I realize that it's better to lose to someone better than you than vice versa."
Senior Dan Hancock was the runner-up and senior Ben Hancock was the winner of the tournament.