Roanoke College Men's Soccer Team Defeats Bridgewater College, 2-0
Eagles Fall Below .500 After Hard Fought Battle With Maroons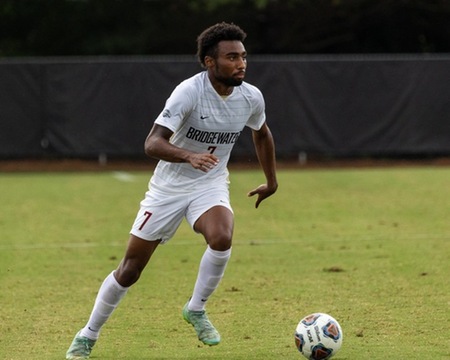 Bridgewater, Va. – The Roanoke College men's soccer team shut out the Eagles on route to a 2-0 victory Wednesday, Oct. 13. First year Charles Schweinefuss's seven saves were not enough as the Eagles fell to 5-6-1 on the season. 
Sophomore Eric Ramirez's three shots led the team — followed by senior Sam Franklin, junior Alex Martinez, junior Simon Brun and first-year Elijah Coleman — each having a shot of their own. 
The first goal scored by the Maroons came in minute 12 of the game, when senior Joe Carman scored a rebound off his head. The second and last goal of the game was scored in minute 66, when junior Nathan Carey scored off an assist from junior Dylan Berk.
The Eagles have a lot to be pleased with despite the loss of their 5-6-1 record, which is already an improvement compared to their Spring 2021 season that saw them finish at 1-7-2. 
The men's soccer team has had a roller coaster season 12 games in, but they are seeing much more success compared to last season. They began the season 0-3, only scoring one goal in that span. Then, from 0-3, the Eagles rode a three game winning streak at home after an awakening of their offense, that saw them outscore their opponents 20-2 in that span, including a 7-0 win over Southern Virginia, and a 11-1 win over Regent. 
Since the men's winning streak, they have went 2-3-1, with two losses in overtime. In the last six games, the Eagles have been outscored just 9-8, hinting that every game could have gone either direction. 
"Roanoke has always been a tough opponent for us and we didn't come out in the first half prepared, but our effort in the second half helped keep the game close but in the end it wasn't enough," said Gianni Maltese, a sophomore majoring in communication. 
"We picked up where we left off to begin the season, the mindset just wasn't there. Then we just clicked against Southern Virginia, which gave us some momentum that we carried for a few games. We've had our ups and downs for sure," said Maltese.
Following the men's game against the Maroons was their matchup against Hampden Sydney on Oct. 16. Junior Trevon Phillips helped create momentum after scoring a long 40 foot goal past the diving goalkeeper for the Hampden Sydney Tigers. 
Phillips continued to help carry his team in the second half when he scored off of a double pass from sophomore Parker Richard and senior Luke Stubbs, to give the Eagles a 2-0 lead with 25 minutes to go in the game. 
The Tigers refused to be defeated as they scored two goals within three minutes of each other, with 14 minutes left in the game. Neither team could break the tie in two overtimes as the Eagles moved to 5-6-2 on the season.   
"We've done a lot of good things as a team, but we're not done yet. We still have work to do and yes, I'm not happy we lost to Roanoke, but that game is behind us and we need to focus on the next," said Maltese.