Eagles Field Hockey Team Falls Short to Maroons in Defensive Battle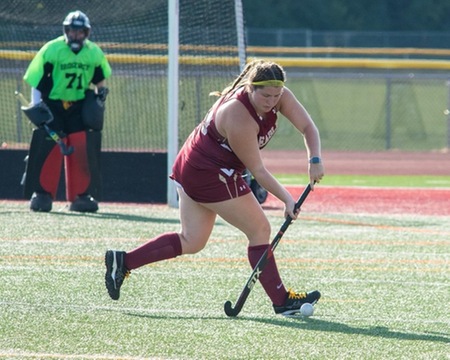 Bridgewater, Va. – The Bridgewater College women's field hockey team lost 1-0 in a close inner conference defensive battle at Roanoke College on Wednesday, Oct. 20. 
The Eagles took only three shots throughout the first half and were not able to take a shot the entire second half. Roanoke had more momentum by taking ten shots on BC's goalie, senior Brooke Hamm. 
Hamm made four saves throughout the game. She now has 109 saves on the season. 
The Eagles were at a disadvantage throughout the game, because of the penalty corners that were against them. The Roanoke Maroons had seven penalty corners compared to BC's three. 
"I think it was a really tough game, but we never were not playing BCFH. We took everything we have been working on in practice and put it to play, and I am very proud of the team for that. We made Roanoke work hard for that win and we never let up," said senior Caroline Quigley. 
Fifth-year Kelsey Hicks took two shots for the Eagles, while first-year Daphne Daymude took one attempt. 
Roanoke's senior Emilee Wooten scored the only and game winning goal in the third quarter. 
The field hockey team will be playing their senior day game at home against their next door rival Eastern Mennonite University on Saturday, Oct. 23 at 1 p.m. 
BC will be honoring seniors Claire Ashley, Caroline Quigley and Brooke Hamm before the game.