Campus Vans Change Hands
Science Departments Left With Limited Transportation
Bridgewater, Va. – The Facilities Department handed over management of a small fleet of school vans to the Athletic Department this summer, causing transportation issues for science lab field trips. 
"Just before the beginning of the fall semester we were told that the fleet vehicles would no longer be available," said Associate Professor of Biology and Environmental Science Edgar Lickey.
The vehicles, three Ford 12-passenger vans, were previously in the care of the Facilities Department. Facilities handled the scheduling and maintenance of the vans, and assisted campus departments in renting additional vehicles from Enterprise if needed. Athletics is now in charge of scheduling and maintenance, which are coordinated by Becky Hylton, administrative assistant for Athletics. 
Professors now contact Athletics if they need to use a van to transport students to an off-campus site for a lab. If vans are not available, students have to volunteer to drive themselves and classmates. 
"If students don't volunteer to drive, then we can't go," said Professor of Biology and Environmental Science Kimberly Bolyard. 
Bolyard's Ecology course typically takes three to four trips each semester. 
"I think from our perspective it is a key piece of the education, of the major, getting out to see those systems," said Bolyard. "I can talk about that experience of being out in the forest all throughout the semester. If we have to end up canceling those, it's gonna be a real loss."
As to who authorized the transfer, to date, no one has taken responsibility. 
"What's worrisome is no one seems to know," said Bolyard. "So obviously someone made the decision. No one knows how this was made or when, or at least will let us know."
Director of Athletics Curt Kendall believes the decision was made by Facilities in response to the school's Strategic Resource Allocation and resulting downsizing. 
"My understanding is Facilities felt like they could no longer manage the vans system," said Kendall. "They just said this is what is happening, and I had to figure out who was going to do it."
The arrangement was made before the former Vice President for Finance and Treasurer Anne Keeler retired on June 30, according to the current Vice President for Finance and Treasurer Steve Bright, who has been at BC since Sept. 7.  
"A program like Athletics often utilizes their vehicles more regularly, making it more cost effective to own and maintain since there is constant use," said Bright. "Academic utilization of Enterprise means that the periodic driver has the safest vehicle possible to transport Bridgewater students."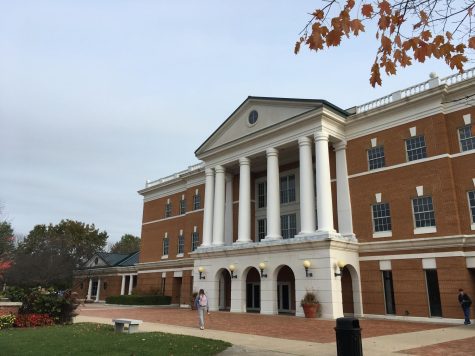 Professors were told they can contact Enterprise if there is a scheduling conflict with Athletics. There are several issues with this, according to Lickey. Because of the Covid-19 pandemic, many rental car companies such as Enterprise have downsized their inventory. As a result, there are not any vans available in the area. 
Most lab trips require two vans. In the past, the professor would drive one school van and a student aged 21 or older, who passed an online course and a driving test which was administered by Facilities, would drive the second van. However, rental car companies require drivers to be 25, a requirement which most college students do not meet. 
Some labs take a boat with them to collect samples from a river. Again, this is problematic as rental car companies do not allow boats to be hitched to their vehicles. 
Under the previous arrangement, Facilities would coordinate between professors and Enterprise to arrange for having vehicles on-campus when needed. Professors are now in charge of contacting Enterprise and picking up the vehicles themselves, according to Bolyard.
"If facilities had to make that decision for their own budgetary reasons, then going forward we need to be more inclusive in the discussions about that before things are just shuffled," said Bolyard. "It's not to necessarily place blame and be angry, it's to improve the processes going forward." 
Members of the Facilities Department who were contacted for comment did not respond to repeated requests for an interview.