Bridgewater College Field Hockey Closes Out Their Regular Season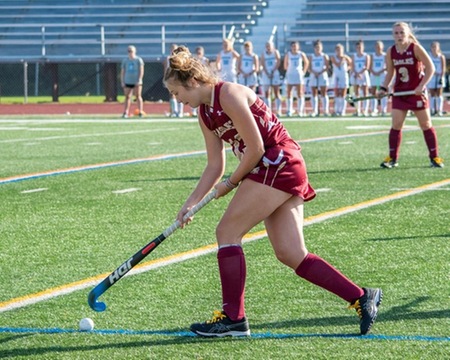 Bridgewater, Va. – The BC field hockey team played their last regular season game at Randolph-Macon College on Oct. 27. The Eagles lost in a shutout 3-0 against the Yellow Jackets. 
Randolph Macon scored a goal in the beginning of the first three quarters and the Eagle's only shots of the game came in the third quarter from first-year Emily Tyler. These attempts were ultimately saved from the Yellow Jacket's defense. 
The Eagle's defense shutout the Yellow Jacket's offense the entire fourth quarter, but was unable to capitalize on the offensive side for the remainder of the game. Senior goalie Brooke Hamm had an impressive 11 saves throughout the course of the game. 
The Eagles took six penalty corners, while Randolph-Macon had seven against the Eagles. The Eagle's defense was the reason why they were still in the game, but the Yellow Jackets defense was too overpowering for the Eagles. 
"We played hard, especially our defense. We played as a team, we gave it our all and played Bridgewater College Field Hockey! We will be ready for the post season's tests," said junior Taylor Wood. 
The top six teams in the conference advance to the postseason and try to qualify for the ODAC field hockey championship. The Eagles field hockey team's regular season record is 6-11, 3-5 ODAC. The Eagles currently are placed in sixth place and are waiting to hear about when and who their next opponent will be. The results and final tournament pairings will be shared on Saturday, Oct. 30.