The Eagles Dominate The Marlins in an ODAC Contest
Bridgewater College Women' Basketball Team Earns Their First Victory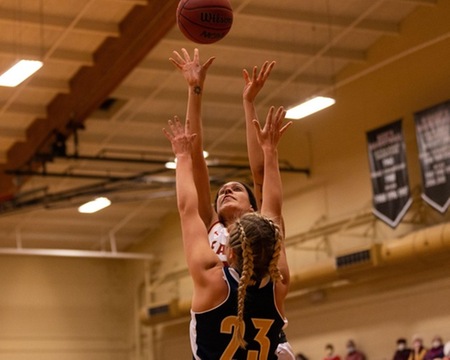 Bridgewater, Va. – On Nov. 17, the Bridgewater College women's basketball team traveled down to Virginia Beach to face off against Virginia Wesleyan. The Eagles came to play and achieved their first win of the season. The final score of the game was 77-54. 
The first quarter of the game was very close and both teams played solid defense, but the rebounding and solid ball skills helped give the Eagles a 17-11 lead at the end of the first quarter. Sophomore Jaden Alsberry was a monster in the paint with 12 rebounds and 16 points. 
At the end of the first half, BC led the Marlins 41-27. Senior Erika Nettles tallied 15 points and seven rebounds, while first-year Jessie Wiles had 13 points and three assists — which was the team high. 
On top of the points, assists and rebounds was first-year Kelsie Huffman, who also had two steals. The Eagles had six steals in total. BC women's basketball showed out against the Marlins with their best team stats of the season. 
The Lady Eagles outnumbered the Marlins with 48 rebounds, compared to their 30. Alsberry finished with her second double-double on the season.  
"It is a big win that we desperately needed! Everything feels like it is finally starting to fall into place. We are a very young team and still learning each other's personalities, so that win gave us a lot of hope," said senior Diamond Huskey. 
With the win against the Marlins the Eagles' record is (1-3, 1-0 ODAC).
Head Coach Jason Asbell will be leading the Eagles back to Nininger Hall on Tuesday, Nov. 23 against Gallaudet at 6:30 p.m. This will be the second game of the doubleheader with the Bridgewater College men's basketball team.