Bridgewater College Women's Basketball Gets Monstrous Win Over Gallaudet
Lady Eagles Improve to 2-3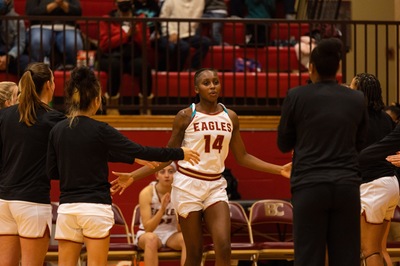 Bridgewater, Va. – Bridgewater College's women's basketball team had plenty to be excited about before Thanksgiving break after their victory over Gallaudet on Nov. 23, which saw the ladies put up a season high in points while allowing a season low in points given up in a game. 
The women's 32 point margin was the biggest marginal win since their 89-38 victory over Hood College back in 2017. 
The Eagles started off strong in the first quarter, within seconds of the jump ball, junior Mary Ruth Shifflet dropped a three pointer. Senior forward Erika Nettles and sophomore forward Jaden Alsberry helped their team to a 21-9 advantage with seven points a piece.
 The familiar Eagles defense was on display again after they were able to hold Gallaudet to just four points in the second quarter, as the Eagles favored a 34-13 lead heading into halftime. 
The carnage continued after halftime as the Eagles scored 22 in the third – while only allowing 11 to take a 56-24 lead into the final stretch.
The fourth and final quarter was no different as the Eagles scored a game high 24 points, while matching their second quarter defensive effort only allowing four points. The Eagles caused 11 turnovers in the quarter alone in their best defensive performance of the year.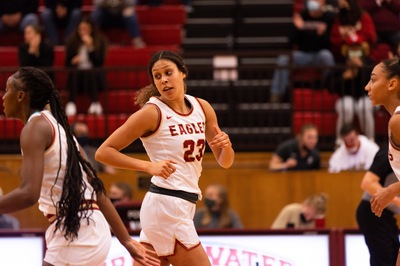 The large margin allowed every Eagle to play, and the bench contributed 32 of their 80 points. The Eagles posted a season high in turnovers with 38, which contributed to 24 more points. 
Nettles led the Eagles with 15 points, adding three rebounds. Alsberry had a productive night as well, posting a game high eight rebounds to go with 13 points. 
The BC women's basketball team improves to 2-3, while Gallaudet falls to 0-2 on the young season. 
With the win, the Eagles currently ride a two game winning streak after their 0-3 start to the season with new head coach, Jason Asbell at the helm.
The Eagles started the season dropping a tough loss to Mary Baldwin, 64-62. Then the Eagles fell to Christopher Newport's high powered offense, 109-59. After losing to Emory and Henry 57-51, the women finally got their first win defeating Virginia Wesleyan, 77-54.
Despite the 2-3 record, the Eagles have won when it mattered most, as they currently sit tied amongst first place with five other teams at 1-0 in the ODAC Conference.