What MLK Day Means to Me
Bridgewater, Va. – Speaking before the Ebenezer Baptist Church in 1968, Martin Luther King Jr. said:
"Everybody can be great…because anybody can serve. You don't have to have a college degree to serve. You don't have to make your subject and verb agree to serve. You only need a heart full of grace. A soul generated by love." 
MLK is widely recognized as a civil rights leader, advocate and hero. King was a pivotal figure in the Civil Rights Movement in the United States. He led sit-ins, marches, strikes and other demonstrations to eradicate systemic racism. In his famous "I Have A Dream" speech, King spoke about a world where everyone is treated as equals. He was the youngest recipient of the Nobel Peace Prize and a proponent of nonviolent protests.
The holiday is celebrated on the third Monday in January. Although King was assassinated in 1968, the holiday was not established until 1983, signed into law by President Ronald Reagan, and first observed in 1986.
Why Does This Matter?
MLK Day is a day of service commemorating the life and legacy of Martin Luther King Jr., a man who inspired Americans to stand up for their rights, freedom and justice through nonviolent protests.
"MLK Day is a day of remembering someone that embodied what America is supposed to be – a melting pot of where your skin color shouldn't matter," said junior political science major Trevor Brookes. "MLK inspired Americans to be a greater America by getting to his core message of loving everyone regardless of their skin color."
"I believe that MLK Day means we get to celebrate our differences," said junior chemistry major Mary Ruth-Shifflet.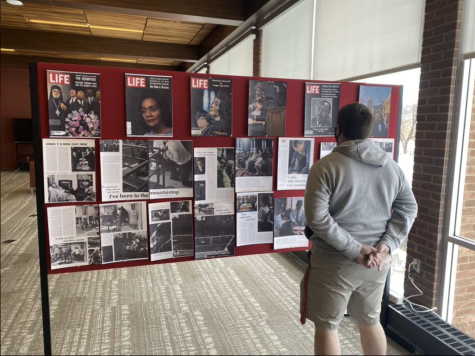 Although King was one of the most visible figures in the Civil Rights Movement, we must also remember those who worked with him to motivate change and to carry the movement forward. Among those who worked alongside King and the NAACP were Bayard Rustin, Malcolm X, Coretta Scott King, John Lewis, James Farmer, Hosea Williams, Whitney Young Jr., Dorothy Cotton, Ella Baker and Jo Ann Robinson.
MLK Day is more to me than a commemoration of the Civil Rights Movement and the fight against racial oppression in the 1960s. The holiday serves as a reminder that, while America is legally desegregated and discrimination is prohibited, we still have a long way to go before all people, regardless of their shape, size, ethnicity, religion, sexual orientation or other characteristics are treated equally.
Change does not happen immediately. While King's work, as well as the NAACP and other civil rights activists, have considerably improved my quality of life as a Black woman in America, individuals across the country continue to live in fear because of their skin color. 
Throughout the year, racial justice must be continually fought and commemorated. You cannot consider yourself woke if you only celebrate King once a year just like you cannot read "To Kill a Mockingbird" or "White Fragility" and assume you know all there is to know about racism.
Members of Black communities advocate for change whether it's hair discrimination, funding public schools, housing, systemic and institutionalized racism, criminal legal systems or disparities in access to health care or economic status as the result of historic, explicitly racist laws. These are just some of the issues that continue to obstruct King's mission of equality for all people of color. 
MLK Day shows how far we have come in America, and how far we have to go. We must not be drawn into performative activism, but instead, genuine allyship to evoke change. Black people are still seeking racial justice and are still fighting for true freedom of oppression. As a nation, we celebrate King and all his accomplishments, but we must remember and continue his fight. 
Although the MLK Day events at Bridgewater College were postponed due to snow, King's life and teachings are not dependent on a walk or a lecture, and each of us has much to learn from him.
"I wish I could say that racism and prejudice were only distant memories," said Supreme Court Thurgood Marshall in 1992. "We must dissent from the indifference. We must dissent from the apathy. We must dissent from the fear, the hatred, and the mistrust…We must dissent because America can do better because America has no choice but to do better."