WWII Service Honor Board of BC Nominated as a Virginia's Top 10 Endangered Artifact
Bridgewater, Va. – Bridgewater College's World War II Service Honor Board has been chosen as an honoree of Virginia's Top 10 Endangered Artifacts program for the 2021 year. 
The Virginia Association of Museums has released their annual selection of 2021 artifacts, which includes an honor board featuring Bridgewater College men and women who served in WWII. According to VAM, their goal is to ensure the success of museums in the community and inspire the wor
ld around them.
As a nominee on the list, the honor board has been submitted into a public vote from Jan. 18 to Jan. 27. The first place winner in the voting process will be awarded $2,000 to go towards conservation efforts. Voting is available at the Virginia Association of Museums' Website.
BC's World War II Service Honor Board was created in 1944 by the college's Alumni Association to honor students who served in the Second World War. The honor board is a large, wooden plaque that features nameplates for each alumni veteran.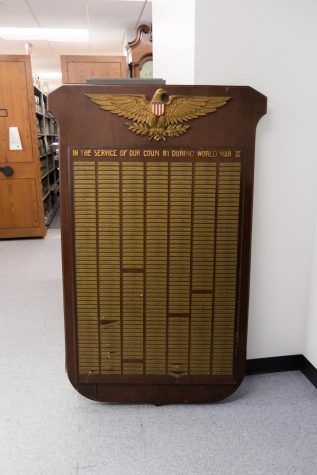 Conservation funding would help restore the World War II service honor board, as its condition has declined throughout the years. Not only would the conservation funding allow BC to repair damages, but it would also allow them to research missing names. 
"Nameplates have been lost over the years and other paper nameplates have cracked," said Bridgewater College Communications Coordinator Logan Bogert. "The star stickers that designate those killed in action are worn and inaccurate because of deterioration, and the board itself has suffered large cracks. The conservation funding would allow BC to research the missing names and repair the damage."
In addition to the first place prize, the VAM's committee will award another endangered artifact with $1,000. The remaining artifacts will be awarded $250 each to go towards their conservation efforts. 
In a BC press release, Bogert also explained that the endangered artifact was submitted by Special Collections Librarian Stephanie Gardner.
Author Esther Fleming explained that it is important to preserve artifacts because of their emotional significance and for the protection of physical validations from the past. 
"It is important to preserve artifacts from historical events, so we can remember, learn about and honor those who were involved," said Fleming. "When an artifact is conserved to retain its current condition, it preserves the truth of the historical story for generations to come,"
The preservation efforts for the honor board would allow future BC generations to revere and appreciate past student involvement in World War II. The board would be displayed with more accurate information and cosmetic repairs. 
"I think the restoration of the plaque would be well-funded as it would give a chance to see how schools during this period honored the men and women who went to war," said junior history major Sherie Davis. "It would also be interesting to see how many people from the school went to the front lines during this global war. I would personally be ecstatic to see this plaque in person and study and research the people."