First Seed Randolph Macon Tops the Bridgewater Eagles in Men's Basketball Matchup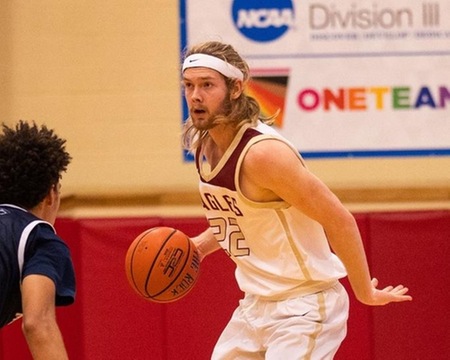 Bridgewater, Va.- On Jan. 25, the Bridgewater College Eagles men's basketball team faced number one ranked Randolph Macon in an old fashioned ODAC showdown. 
Having the help of a home court advantage, the Yellow Jackets' strong defense held the Eagles to zero points for 13 minutes. The Eagles hurt themselves in the first half with 12 turnovers and only 19 points. 
Randolph Macon finished the first half with 48 points, while the Eagles had only 19. In the second half, the Eagles came out swinging by going on a 17-8 run over the Yellow Jackets.
Sophomore guard Zach Hatter had 12 points coming off the bench and led the Eagles in baskets. Followed by first-year forward Aaron Oates, who led the team with four rebounds and added two assists. 
The Eagles had 21 turnovers and were 42% in shots attempted. Randolph Macon pressed the Eagles throughout the duration of the game and were 61% in their shot attempts. 
"Although the result is not what we wanted, it was great to play against the number one team in the country on the road," said senior guard Andy Pack. 
The final score of the game was 80-51, with Randolph Macon still proving they deserve to be the number one ranked team in the nation. The Yellow Jackets' record improves to (15-1, 7-0 ODAC). After the loss, the Eagles are (7-9, 3-5 ODAC). 
The BC Eagles will be back in Nininger Hall against Guilford this Saturday, Jan. 29 at 2:00 p.m.