The Women's Basketball Team Defeats Lynchburg College 58-56
The Eagles Win Thrilling Double Overtime Contest Against Reigning ODAC Champions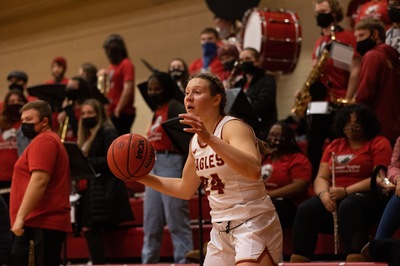 Bridgewater, Va. – The Bridgewater College women's basketball team defeated visiting Lynchburg College on Wednesday, Jan. 26, in a game that saw two overtimes and a two point final score differential.
The game opened up with a three pointer from sophomore Jaden Alsberry. Neither team held an advantage larger than two, until the second quarter. Lynchburg led 12-10 at the end of the first quarter, while Bridgewater was able to rally back and take a 25-20 advantage heading into halftime. 
The Hornets out scored the Eagles 18-13 in the second half, as it was all tied up at 38 as the final regulation buzzer sang. The Eagles and Hornets battled back and forth throughout all six quarters. 
The battle continued in the first overtime quarter as the Eagles were staring defeat in its eyes.  Down 46-42 in the final minute of the first overtime, a pair of Alsberry free throws and a jumper from sophomore Julia Williams kept the women alive for a second overtime quarter.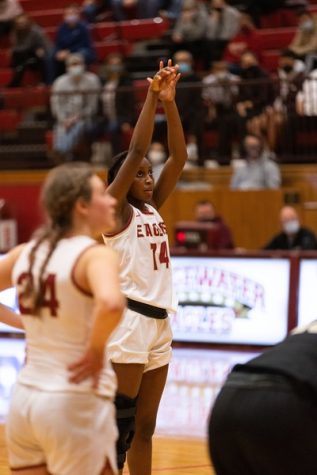 Neither team showed any signs of giving up as fans in Nininger Hall began thinking of a third overtime. The scoreboard read 54-54 with 16 seconds left, but senior Ericka Nettles was able to make both of her free throws. The Hornets were able to respond to tie it once again, but with five seconds left, junior Mary Ruth Shifflett sank a jumper to seal the deal. 
"The atmosphere at the end of the game was unreal. It definitely is one of the best games I've been to in recent times," said senior Patrick Tiffey.
Nettles and Shifflett were key reasons why the Eagles were able to walk out of Nininger Hall with the victory. The pair worked together for the final six points in the second overtime quarter of the game to win 58-56.
Williams and Alsberry had career nights, as Williams put up a career best of 19 points and Alsberry had a career best of 19 rebounds. 
The women's suffocating defense was on display again as they scored 21 points from turnovers. 
The Bridgewater College women's basketball team improves to .500 with the win to move to 8-8,  while Lynchburg College falls to 9-7.