Associate Professor of Spanish Mahan Ellison Returns to Campus after an Insightful Sabbatical
Grottoes, Va. – Many students in the World Languages Department at Bridgewater College are having their first ever class with Associate Professor of Spanish Mahan Ellison, as he returns to face-to-face teaching for the first time since the start of the pandemic. May through December 2021 was a busy yet fulfilling time for Ellison, as he spent it on sabbatical in Morocco and Spain.
During his sabbatical, Ellison researched Spanish literature written by Moroccan authors through interviews, work with international university colleagues and by analyzing books in both Morocco and Spain. 
"These are authors who don't live in Spain; they live in Morocco, and they come from all these different backgrounds," said Ellison. "Some of them grew up speaking Spanish, some of them learned Spanish later on, but they are writing poetry, novels and short stories. It is kind of an overlooked area of Spanish literature."
Ellison spent the first half of his sabbatical in Agadir, a southern city in Morocco, based out of a university with an impressive Spanish program. During this time, he also traveled through northern Morocco, where the sphere of Spanish influence is stronger.
"[Northern Morocco] used to be a Spanish protectorate," said Ellison. "It was technically part of Spain. A lot of Spanish people live there, and Spanish was the primary language during most of the 20th century. I interviewed authors and dug up books over the summer."
After spending the summer in Morocco, Ellison and his family traveled to Madrid, Spain – which became their home base for the remainder of the sabbatical. While in Spain, he worked with the Department of Arabic and Islamic Studies at The Autonomous University.
Madrid being large and diverse, Ellison connected with many authors within the city. The main libraries provided him with sufficient research to stay based in Madrid, rather than needing to travel throughout the country. 
Throughout his research, Ellison looked at the literature from an eco-critical lens, focusing on the environment and nature. This references the current climate issues the region faces, as well as the ecological similarities between Spain and Morocco. 
"Morocco is in northern Africa, and is facing a lot of effects of climate change and desertification, but also there are some interesting things about the environment," said Ellison. "Northern Morocco is similar to Spain ecologically and geographically."
Ellison's experience in Morocco and Spain went further than just his research; he was able to spend it with his wife and two children.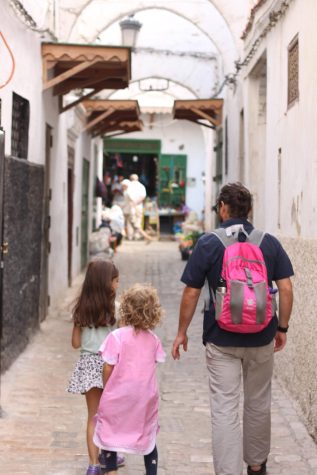 "Morocco is just an amazing place to travel and visit, and I got to do it with my family," said Ellison. "My daughters loved it. They loved Morocco and want to go back. In Spain, they attended school, made a bunch of friends, and worked on their Spanish, so all of those things made it a very rewarding experience both professionally and personally."
During his sabbatical, Ellison also had his first book published – which analyzes the way Spanish authors talk about Africa, as well as the way some Spanish-writing African authors talk about Africa. One difference between his sabbatical and the publication is that the book encompasses a wide range of authors from all across Africa, while the sabbatical focused specifically on Morocco. 
While Ellison expresses that he had a remarkable experience in Morocco and Spain, he is also excited to return to campus. His last semester teaching face to face was the short portion of Spring 2020 that occurred in person. 
"I missed seeing students face to face. Teaching virtually isn't the same; you don't have the same dynamics and interactions that you have [face to face]," said Ellison. "Those are the things I missed quite a bit; I realized that that was the thing that I enjoyed every day about coming to work: interacting with students. When I didn't have that, it was sad."
Students were happy to have Ellison back on campus, too, especially those who had him earlier in their college career. 
"I had Ellison for Spanish 102, and now I have him for 315," said Spanish minor and junior Fletcher Jackson. "He's a great teacher, and I am super excited to have him again as my professor."
Seeing Ellison on the Spring 2022 program of classes sparked excitement for many students.
"Well, Dr. Ellison being off campus was definitely an adjustment," said Spanish major and junior Matthew Wonderley. "As my advisor for my Spanish major, consulting him always gives me  peace of mind. So, having him back on campus was a relief and even better, I have one of his classes this semester."