Sights, Sounds & Words from the Past Week
Feb. 8 – Dozens gathered outside Memorial Hall in memory of Officers J.J. Jefferson and John Painter, who were slain one week ago to the day. A hush fell over the crowd as the bells tolled at 1:15 p.m.. There were 14 chimes in total: six in memory of Jefferson, six in memory of Painter and two for loss of life.
When the bells finished, the silence stayed. No one moved or spoke for seemingly never ending minutes. Palpable sadness had fallen over the community. In that silence we found reverence, reverence for the memories of the officers, and reverence for the ultimate sacrifice they made to protect those on campus. Slowly the silence lifted and people began to trickle away from Memorial.
"It was heavy, it was a thick atmosphere," said sophomore Jacob Hardman. "You could tell people were sad about what happened and wanted to mourn." Hardman was in Flory Hall during the shooting. "I think that the bells also served as a bit of closure," he added. "I know personally, I felt better going back to where it happened. It made me feel better."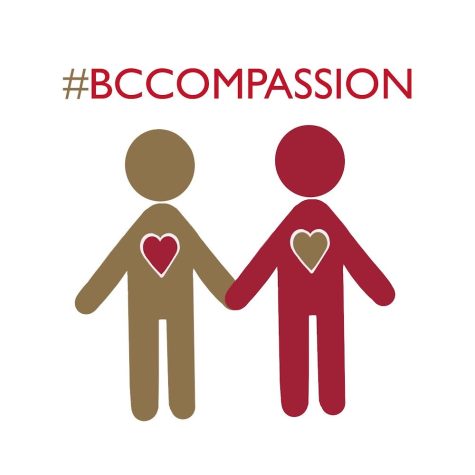 Active Shooter by Nicole Sutton
A message you never expect to receive, "Active Shooter. Shelter in Place."  Your heart sinks, and the only thing that comes to mind is to run. Immediately you find a hiding spot and begin to text everyone three words that can either fill a heart with joy or fear in a matter of seconds, "I love you." (Continue reading)
Healing: The Value of Community Voices by Abby Gaver
The Bridgewater College campus is quiet as students return to classes and process what is the new normal. For some students, classes are moved to new locations, while others see few changes to their usual routines. Underneath the quiet, however, lies a strong sense of community. (Continue reading)
Small Gesture, Big Impact: Rivalry Aside, ODAC Stands as One by Jordan Davis
On Feb. 8, the Bridgewater College men's basketball team hosted Washington & Lee for the first time this season, exactly one week after tragedy struck Bridgewater's campus. Physical support overflowed Nininger Hall as this game held the biggest crowd of the year, with over 900 people in attendance. (Continue reading)
Moving On vs. Moving Forwards by Nathan Good
As human beings, we possess an innate desire to forget about the things that hurt us. In terms of separating ourselves from a traumatic situation, this can be a positive. However, it becomes all too complicated when we would like to forget an event, but not the people connected to it. How are we supposed to move on when we still want to honor a beloved community member or loved one? The truth is, we should never move on; we should move forward. (Continue reading)