Campus Police and Safety Maintains Coverage
Local Community Offers Support and Assistance
Bridgewater, Va. – As campus mourns the loss of Officer John Painter and Officer J.J. Jefferson, several local law enforcement agencies have offered assistance to Bridgewater College Campus Police and Safety to help maintain campus coverage. 
The Town of Bridgewater Police Department, Town of Dayton Police Department, Rockingham County Sheriff's Office and Virginia State Police have all reached out to Bridgewater College Campus Police and Safety to offer personnel to fill in shifts as needed. 
"Last weekend I had a Dayton officer here, I had a Bridgewater officer here, just kind of filling in, so making sure one of my guys didn't have to work by themselves," said Lieutenant of Campus Police & Safety Rick Biller.
The Rockingham County Sheriff's Office has offered a deputy to Bridgewater College for as long as needed. Beginning next week, the deputy will work shifts on campus until the department is able to hire new officers, a process which began last week. 
"The idea is that we maintain the same coverage we've always had," said Biller. "And we've been able to do that." 
Bridgewater College Campus Police and Safety operates on a mutual aid agreement with the Town of Bridgewater, Town of Dayton and Rockingham County, in which each law enforcement department agrees to help the others when needed. 
"We do this throughout the year for the campus; if they're short staffed or if there's any issues on campus, we're next in line to handle anything," said Town of Bridgewater Police Sergeant Aaron Will. "We've had to rely on the Rockingham Sheriff's department a little bit to help covering the town during small periods of time, like during [Wednesday's] funeral service."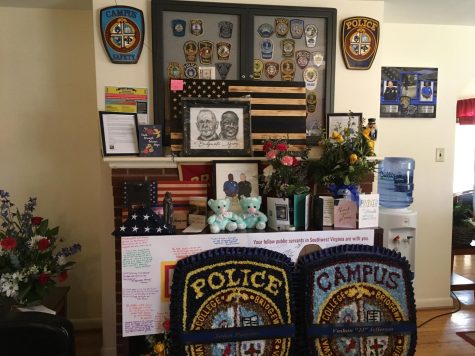 Campus Police and Safety has also received support from the college and from the local community, according to Biller. Community members have brought food, cards and flowers to the office, in addition to just stopping by to say thank you.
"I'm just overwhelmed by the amount of support and appreciation and even sympathy that people have shown," said Biller. "We do appreciate everything that everyone has done."
"I would like to say thank you for all the students that have supported John and JJ throughout the last week and a half," said Will. "I was there at the funeral service on Wednesday, and I was really overwhelmed with the amount of students that showed up to offer their support and respect the two officers."
"There was so much love and intention in the entire ceremony, and it was incredibly healing," said sophomore Ryan Roeber, who watched the livestream of the memorial service. "While our community is still broken, and hearts are still aching, I think that it was a step towards healing for a lot of people." 
"We lost two great guys," said Biller. "They were doing their job. We'd all do the same thing."