BC Students React to Two Years of the FLC
Celebrations Held to Mark the Anniversary
Bridgewater, Va. – Feb. 18 marked the two year anniversary of the opening of the Forrer Learning Commons. The FLC hosted small events throughout the building including yoga and a cookie walk to celebrate. 
Over the two years of it being open, students have gathered in groups or by themselves to use the new study spaces and amenities. 
"It's a quiet place to study and get all my work done and limit all my distractions. I just like the environment of having an option to have the private rooms or study areas even with other people," said first-year Kelsie Huffman.
"I like going to do homework here a lot more than my room. I feel like I can focus and all the furniture is pretty comfortable, so I don't mind spending long hours in here," said sophomore Hannah Nugent.
"I just like being able to work with people here," said first-year Jackson Wicker.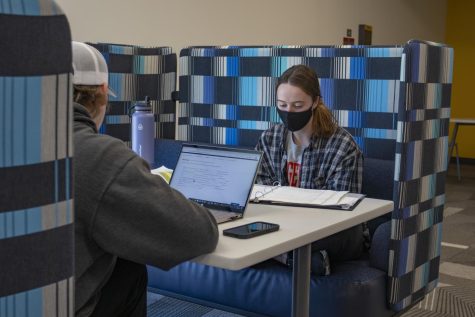 Some students also work in the FLC, so they have the ability to build closer connections with BC faculty members. Junior Anton Kopti is a Digital Scholarship Guru and works in the building. 
"It's just how close everyone around here is," said Kopti. "The office is an open space, so everyone can just go in and talk to everyone. It makes you feel a part of a big family and community so that's nice."
"I work at the front desk and the writing center," said junior Beth Gaver. "I feel really close with all the staff and they're always so welcoming."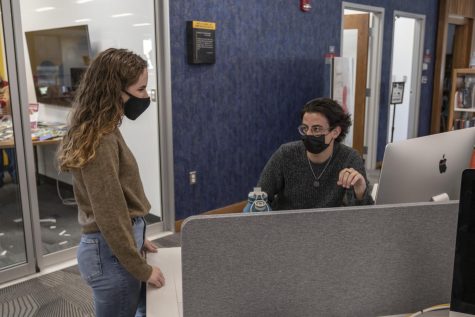 There is also a rotation of book recommendations that the staff puts together for students to explore. Currently, the rotation is called "Never Judge a Book By Its Cover" – which has books that are wrapped in paper with an excerpt from the beginning taped to it.
"I also really love the shelves that they do. They always work really hard to make really cool shelves of different book recommendations," said Gaver.
Throughout the FLC, there are resources such as iMacs and Windows PCs for students to use at their convenience – which is a benefit for students who do not have access to the Digital Media Lab in Bowman.
"I believe that every resource that is provided for any major should be an open source for other students since it is a liberal arts education. I think students should be able and have the capacity to venture into other fields," said Kopti. "So, having the Macs here for video making or editing is a nice idea, because anyone can get into videography or whatever they want to get into."