The Eagles Travel South to N.C. Wesleyan and Open the Baseball Season with a Series Win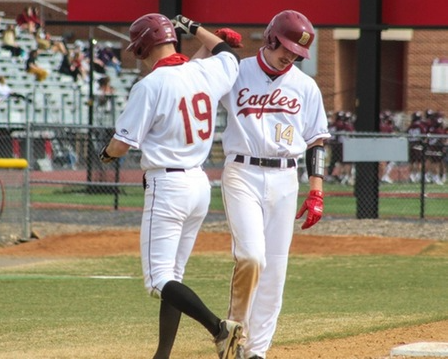 Bridgewater, Va. – The Eagles baseball team opened their 2022 campaign this weekend winning two of three games against the number 19 ranked N.C. Wesleyan Bishops in Rocky Mount, N.C
The Eagles made the four hour trip to N.C. Wesleyan Friday morning, then turned around and played the same afternoon. The long trip may have proven costly as the Eagles fell apart late in Friday's game. The combination of errors for the Eagles was enough to give the Bishop's game number one of three on the weekend.  
Saturday morning featured game two of the three game series for the Eagles and Bishops. It was junior pitcher Hunter Clever who got the nod for the Eagles. Clever went a solid three innings only allowing two earned runs on three hits. Clever also finished with three strikeouts.  
Senior Tucker Harasky also went three innings in relief Saturday morning. Harasky gave up just three hits. Harasky picked up the win as well in a game shortened to seven innings.  
The Eagles were led offensively by redshirt senior Jacob Grabeel. Garbeel had three RBI on three hits and scored two runs. Senior Jarret Biesecker also added two hits, a run, and two RBIs for the Eagles.  
Despite picking up a win against a nationally ranked team, the Eagles had to quickly turn around and play the Bishops in an afternoon game as a part of a double header.  
Sophomore Reid Long got the ball in the final game of the weekend for the Eagles. The right hander did not disappoint as he went for five innings – allowing just one hit – and picking up a win. Long also recorded eight strikeouts and just one walk.  
Senior Brett Tharp recorded a save giving up no hits and striking out 3.
It was the starting pitcher from game two for the Eagles who got it done offensively. Clever had two hits, including a towering home run Saturday afternoon. His role as a two way player is proving effective for BC, even in the first weekend of the season.