Bridgewater College Women's Lacrosse Loses in Season Opener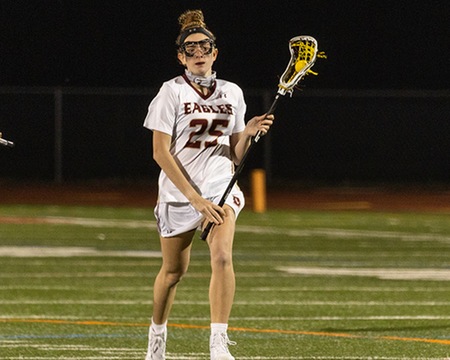 Bridgewater, Va. – The BC women's lacrosse team faced Hood College on Wednesday, Feb. 23 at home. The Eagles lost to the Blazers 14-8. The Eagle's record is now (0-1) to start the 2022 season. 
Bridgewater scored the first goal due to sophomore attacker Ashley Venit shooting the shot with authority. The Hood College Blazers answered quickly with one of their own goals, which tied the game. First-year midfielder Grace Pietro scored the second goal of the game, which was also her first goal of her collegiate career. 
Junior attacker Allison Burris and sophomore attacker Lauren Roberts also contributed by scoring the last two goals of the first quarter. The Eagles dominated the first quarter with a four to one lead over the Blazers. 
To start the second quarter, the Blazers took command. They scored the next three goals, which made the score four to three. Eagles first-year midfielder Jenna Entsminger scored her first collegiate goal to increase their lead five to three in the last few minutes of the first half. 
During the second half, the Blazers had all the momentum on their side. The Balzers scored six goals unanswered in the third quarter – making the score nine to five. The Eagles tried to cut their lead by Roberts scoring two goals in the third quarter. The Eagles defense was unable to stop the Blazer's offense and let up three more goals, which made the score 12-7 at the end of the third quarter. 
In the fourth quarter, the Eagles tried to attack on the Blazer's defensive front, but were defeated  in the end. Bridgewater scored one goal in the fourth quarter, which was accredited to junior midfielder Madeleine Magill. 
The Blazers went on to score two more goals in the fourth. The Blazers beat the Eagles 14-8, also outshooting Bridgewater 29-25. Eagles first-year goalie Rachael Robinson had ten saves throughout the game. 
"We played a good competitive game and we were well matched with Hood College. We are a young team and we still have a ways to go, but I see a lot of potential. Our new coach has given us the right tools to work with once we get the right chemistry down on the field. We know what we have to improve on and we are going to use these next two days of practice to get ready and come out on top against Goucher on Friday," said senior attacker Emily Jenks. 
The BC women's lacrosse team will be back in action at home on Friday, Feb. 25 against Goucher at 5 p.m.