Adalia Coleman Captures National Championship
Bridgewater, Va. – Bridgewater College sophomore Adalia Coleman captured the women's 60 meter dash National Championship title on Saturday, March 12 at the DIII National Championships in Winston Salem, N.C.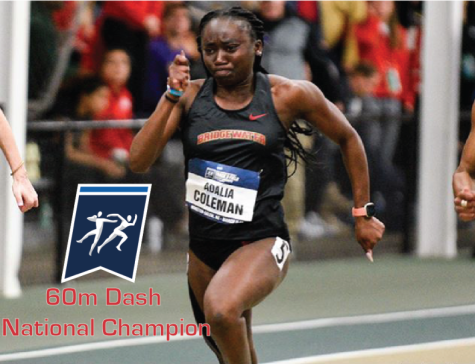 Coleman posted a 7.61 in the finals to secure the crown. This time was also a personal-record for the Warrenton, Virginia native. Coleman improved upon her time from a year ago by nearly three tenths of a second. She also bested her ODAC championship time by one hundredth of a second.  
The sophomore started the event similarly to how she started the ODAC Championships back on Feb. 26; her preliminary round time ranked second in the event, but she was able to pull through when it truly mattered.
With the win, Coleman became a three time All-American after earning two honors during last season's outdoor national championships in the 100 meter and 200 meter.
Coleman is the first individual national champion for BC since Davonta Womack during the 2019 outdoor season when he won the 100 meter. 
An NCAA ring adds to what has already been an impressive two seasons for Coleman. She picked up two ODAC Championships this season – adding a win in the 200 meter with a time of 25.54 that ranks second in BC history.