Bridgewater Women's Lacrosse Loses at Lynchburg in an Inner ODAC Matchup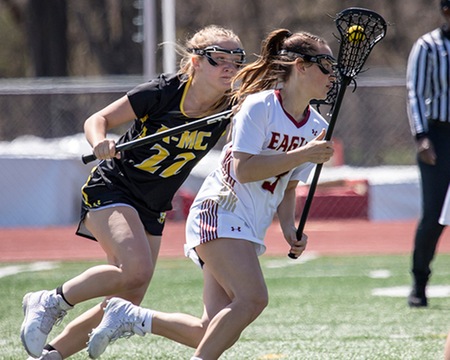 Bridgewater, Va. – On April 9, the Eagles women's lacrosse team traveled to Lynchburg to face off against the Hornets. The Hornets defeated the Eagles 16-8. After the loss, the Eagles women's lacrosse team is 4-7 and 1-2 in ODAC standings. 
In the first quarter, the Hornets were quick to score the first goal of the game. The Eagles were very quick to answer, as sophomore midfielder Kaity Petersheim tied the game with Bridgewater's first goal. 
Shortly after the first goal, Petersheim added another – making it her second goal of the game and giving the Eagles a two to one lead over the Hornets. Towards the end of the first quarter, both teams heated up and began going back and forth. Lynchburg scored two more goals while the Eagles scored their fourth of the quarter. 
The Eagles led four to three at the end of the first quarter. 
To begin the second quarter, Lynchburg dominated the entire quarter. Bridgewater was unable to score a single goal in the entirety of the second quarter. The Hornets were able to put up seven goals on the Eagle's defense. At half, the Hornets led 10-4. 
At the start of the second half, the Eagle's were eager to bounce back after a tough second quarter. The Eagles defense held on for the first few minutes of the third quarter, but Lynchburg scored four goals in a matter of minutes. The Hornets increased their lead 14-4, but Petersheim achieved a hatrick and scored her third goal of the game. This decreased the Hornet's lead to only nine points. 
The score at the end of the third quarter was 14-5.
To start the fourth quarter, Lynchburg was able to score first, but the Eagles answered with three goals of their own within minutes. Thus, making the score 15-8. Lynchburg's defense was strong throughout the entirety of the game and held off the Eagles from getting too hot. In the last five minutes of the game, Lynchburg scored another goal – which was the dagger to end the women's lacrosse momentum. 
"We tried our best today and made too many mistakes on both sides of the ball. All we can do is take this game and learn from it. This team is strong with talent and we will be ready to play against Roanoke," said senior attacker Emily Jenks. 
The Bridgewater College women's lacrosse team will be competing against Roanoke College at home on Tuesday, April 12. The game begins at seven o'clock.