Passing the Torch
Leadership Changes in the Strength and Conditioning Room
Bridgewater, Va.- Assistant coach of strength and conditioning, Michael Tucker, steps into the role of director at the resignation of Devon Young. 
Both Young and Tucker served as strength and conditioning coaches for roughly a year at Bridgewater College. Young's last day at the program will be Sept. 9.
Young accepted a soft spot at the University of Pittsburgh as an assistant strength and conditioning coach for sports performance, and will officially start on Sept. 19. 
"I thoroughly enjoyed my life at Bridgewater," said Young. "I did not see myself leaving in a year. I was happy here, it's just an opportunity that came up which is one that I couldn't turn down."
At the University of Pittsburgh, Young will be the strength coach of the softball and track and field teams, with approximately 110 athletes to train. 
"One of the things I am most excited about is being able to individualize and to dive into just two sports," said Young. "I work with 14 here and I think Tucker and I do a really good job to try and see each sport and what their needs are even though there are only two of us. It is very time-consuming and taxing. I will be able to individualize the two teams and be able to dive into them."
With Young's resignation, Tucker will step into the role of head strength coach. 
"One of my big goals, when I got this job, was that I wanted to leave the Bridgewater strength and conditioning program better than I found it, and I think I did that," said Young. 
Tucker's plans for Bridgewater's strength training program will remain similar to what the athletes know. 
"I liked the way coach Young and I ran this together," said Tucker. "We are not all going to start squatting upside down from our toes on the pull-up bar. Nothing crazy." 
Although it may be nothing major, some small changes may be made to the program.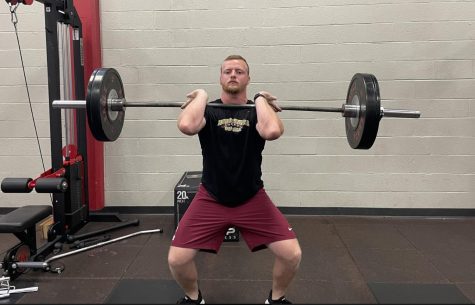 "There will be some sports adjustments," said Tucker. "Athletes are here to get better. I am here to help you win games, win matches and win tournaments. It's the same weight room, the same group of kids. There are going to be some changes, but I am trying to make it as seamless as possible."
Tucker will now have roughly 500 athletes training under him as he gains Young's half of the program. 
"I love Tucker!" said senior soccer player Megan Byle. "He has great energy in the weight room and knows what he's doing. I can't want to train with him and see him step up to the plate."
Tucker's personal traditions in the weight room, however, will increase along with the number of athletes he will train. 
"I'm going to tell everyone to think of something they're thankful for," said Tucker. "Everyone is going to be doing that now. That's going to be so cool. Five hundred kids walking around campus just thinking about what they are thankful for."
The first official year of Tucker's employment at Bridgewater will be on Sept. 6. 
"To the athletes, everything you've been doing for the past year, keep doing it," said Tucker. "Everyone comes in here, kicks butt, and takes names. They have a great attitude, they get the job done. For the people I haven't coached, I need patience. I do not know all of your names. I'm sorry! I will learn everyone's name at some time. I need patience, cooperation and a good attitude."
The rest of the 2021-2022 strength program will look a little different from when it started, but it will not slow down.
"I'm big on growth, said Tucker. "This program is turning children into adults. I am not the same person I was four years ago. I am hoping to see that in my athletes when they come in freshman year and when they leave four years later."