Rebecca Quad Construction Underway
Bridgewater College has officially begun construction within the fenced off area that is set to be the future Rebecca Quad, a new gathering place on campus. 
Bridgewater College announced the construction of Rebecca Quad during the Spring 2022 semester after receiving a $1 million gift from chair of the College Board of Trustees Bruce Christian and his wife, Spas Christian. Upon returning to campus for the fall semester, the future quad was fenced off and awaiting construction. 
According to Vice President of Student Life and Dean of Students Leslie Frere, official construction is set to start on Monday, Sept. 12 at 7 a.m. If all goes as planned, the new quad will be completed in mid-February.
Some landscaping must wait for the warmer weather, but following the plan, the new quad will be available for student and faculty use before spring break.
"I think this work is going to be a game-changer with respect to how students use the Mall and grounds around campus, and personally can't wait to see it done," said Frere.  
According to a press release by Bridgewater College during the spring semester, the quad will feature hardscape walkways with several gathering options including dining tables and chairs. Landscaping will be harmonious to that of the campus mall. 
To acknowledge the history of Bridgewater, the project will highlight the original walkway and campus entrance by including a large college seal to complement the quad. 
Many students around campus are anticipating the project's completion.
"I'm excited to see how the project turns out," said sophomore biochemistry major Leigha Dillard. "The proposal we saw looks great, and it will definitely be a fun and positive addition to our campus."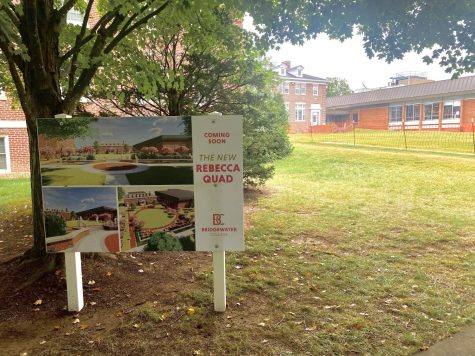 Due to the construction, various areas will be inaccessible until the quad is unveiled next semester. The breezeway doors connecting Rebecca Quad and the Kline Campus Center lobby will be blocked, however there is still accessibility from the Student Life entrance or Kline Campus Center parking lot. 
Some temporary walkways have been created to better connect the two parts of campus that are split up due to the construction. In order to travel between Daleville and the campus mall, a small path exists on the south side of Blue Ridge Hall.
Since the breezeway is one of the most often used ramp accessible entrances into the Kline Campus Center, faculty and staff in need of wheelchair accessibility may redirect to enter through the Student Life entrance and use the elevator. 
The improvements to Rebecca Quad are just one piece to the long term grounds plan that has already tackled Nininger Hall, the Kline Campus Center, and the John Forrer Learning Commons. Still to come is a remodeling of Bowman Hall and renovations to the old Alumni Gym. 
Continued project updates are expected throughout the fall semester as construction teams begin transforming the once underutilized area on campus into something new.