Cat's Cradle: Making a Pawsitive Impact
Non-profit Aims to Ensure a Compassionate Community for Cats
Bridgewater, Va.- Cat's Cradle, located in Harrisonburg, Virginia, is a non-profit organization for cats and kittens offering multiple services to the area including spay and neuter assistance, foster care and adoption, food assistance, trap-and-release neuters and other medical assistance.
What's New?
Due to the Covid-19 pandemic, Cat's Cradle's Cat Café program was briefly shut down. 
"Last year around this time, we fully reopened it," said Adoption Counselor Kristin Rhodenizer. "it's a $20 donation and that is what gets you an appointment with the cats. Then we have coffee and snacks as well. We also have cat pulleys and keychains available with your appointment."
Donations from the cat café appointments go to the non-profit's medical systems.
Why it Matters?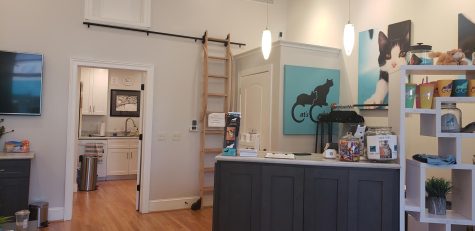 Customer Service Staff Kat Manness said she often gets phone calls from customers thanking them for their work with sick and injured cats. "The biggest thing is knowing that we're getting to help these cats, give them what they need."
Cat's Cradle's offers numerous services for domesticated, stray and feral cats. Their spay and neuter programs help in the long-term for pet overpopulation. 
The non-profit also seeks to create a healthy and humane community for cats and to find homes or foster families for cats in overpopulated shelters. Rhodenizer particularly enjoys finding forever homes for cats and kittens.
"My favorite part of the job as the adoption counselor is the end process when people adopt the cat. It's just wholesome, especially families, because the kids are so excited," said Rhodenizer.
What's Ahead?
Cat's Cradle is actively looking for volunteers going forward. Volunteers can apply online and assist in the programs run through PetSmart where volunteers come in for a short period of time to feed and play with the cats in the store. 
Senior Elizabeth Gaver volunteered for Cat's Cradle in PetSmart in 2019. 
"I went every Saturday and took care of the cats following adoption events," said Gaver. "This entailed setting up their pens, feeding them, making sure they took their medicine and playing with them. It was very stress-relieving."
Cat's Cradle also takes volunteers to help with the cat café program.