Bridgewater College hosts Lynn Novick after the release of her PBS Documentary
On Oct. 14, documentarian Lynn Novick visited Bridgewater College to discuss "The U.S. and the Holocaust," a PBS series co-directed and produced with Ken Burns. 
Novick has been involved in the film industry since the 1980s and has worked on a variety of documentaries throughout her career, including the history of jazz, history of baseball and a two part series on Frank Lloyd Wright. Over the years, Novick has garnered several accolades, including an Emmy, a Peabody award and an Alfred I. duPont-Columbia University award.
Her latest venture, "The U.S. and the Holocaust," aired as a three-part six-hour series on PBS in late September. The documentary focuses on the United States' response during the Holocaust through firsthand testimonies of survivors and family members. 
Bridgewater College's endowed lecture featuring Novick was her first public event since the documentary premiered on PBS. Both Director of Endowed Lectures Jennifer Babcock and President David Bushman introduced Novick to the attendees in Cole Hall. 
"Novick has been making landmark documentary films about American life and culture, history, politics, sports, arts, architecture, literature and music for more than thirty years," said Bushman. "These landmark series have garnered nineteen Emmy nominations as one of the most respected documentarians and storytellers in America."
Like many of her documentaries, Novick worked in collaboration with acclaimed filmmaker and documentarian Ken Burns. One of Novick's first experiences as a documentarian began with Burns on a Civil War documentary following an internship at the PBS station in New York. 
"When I got out of college, I was not sure what I wanted to do," said Novick. "I bounced around a bit, unsure of what path. At some point, I had a revelation that I wanted to be involved in documentary. I worked my way up the food chain with freelance jobs, and I met somebody who had worked for Ken Burns. I got an interview, and it turned out somebody quit in the middle of the project, and I was able to get on."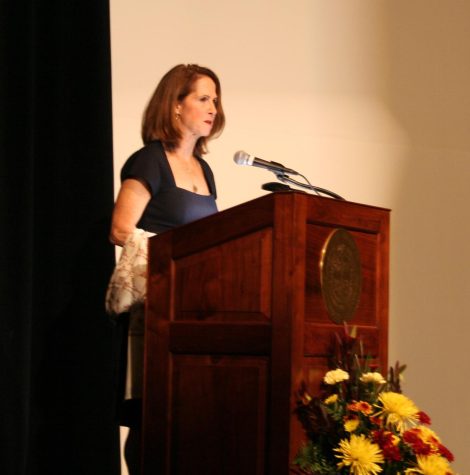 Burns and Novick began "The U.S. and the Holocaust" in 2015 after the United States Holocaust Memorial Museum reached out to them about building on their research and producing a documentary. After seven years of research and production, the documentary aired.
Novick's favorite part of working on documentaries is the collaborative nature of the work. 
"The work itself is really rewarding," said Novick. "I think what I like the most about it is how collaborative it is. Being in a room with other people and hearing their ideas, and maybe putting your own on the table to see if anyone else thinks it's a good idea."
During the lecture, Novick shared clips from "The U.S. and the Holocaust" to aid in her discussion of the documentary, and a question and answer session followed the lecture.
Many of Novick's documentaries deal with tragedy or intense topics, which has impacted her career and process as a documentarian.  
"It's really when we worked on our film about the Second World War and talked to veterans about what it's like being on the front line of war," said Novick. "That's when I began to really appreciate how difficult this can be. Mostly, it's about treating people with respect and accepting who they are and whatever they've been through. Creating a space where people can share whatever they need to share is a very profound experience."
Looking ahead for Novick, her next documentary will be a PBS series about the history of crime and punishment in America. The series is slated to release in 2026. 
The next endowed lecture at Bridgewater College is scheduled for Jan. 18 with The Rev. Dr. William Barber II, who will be attending as part of the college's annual Martin Luther King Jr. celebration.