Suspicious Activity on Campus
Will the Students Be Notified?
Bridgewater, Va.- Recent allegations of students being followed on campus have been sent around social media on Oct. 15. Chief of Police Milton Franklin gave a description of the alleged person to be wearing a black hoodie and jeans. Two accounts accused the same man of following them. One account by senior Skylar Mongold described the man to be following her roommate and maintaining the same speed as her. Another account by @unknownvibessss says he tried talking to her and her roommate.
Franklin stated students had been informed through MyBC. This MyBC post unfortunately did not state the recent report of a student being followed on campus or have a description of the alleged person. Senior Adelena Bracken said, "It's creepy, I feel they should try to notify students. It would also be nice if they gave us a description of the person."
The post encouraged students to report any suspicious activity to campus police as soon as possible to help their team look into the situation and share information with the community. Franklin said the MyBC post was a good way to reach students. "That's sufficient. We try to reserve the emails when there's a threat, ongoing threat, or animate harm to the students."
These allegations have been brought up in two senate meetings, once during the Oct. 15 meeting and again in the Oct. 29 meeting, yet students are still unaware of the reports.
Senior Alexus Carter said, "I didn't hear anything about someone being followed on campus. If it was on MyBC, I didn't see it."
Carter said, "If this is a problem and they mentioned it in two senate meetings, why haven't they sent out an email to the whole campus about it, like they did last year with the strange man exposing himself on campus?"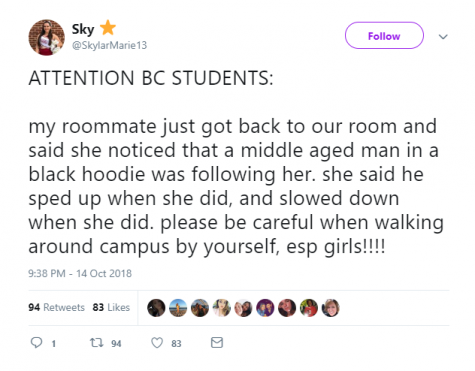 Campus police did an investigation on the matter. Franklin said, "Of course we start doing an investigation. Of course it's now, what, like a day later, the morning after when someone saw the Twitter account. So we mainly started looking at cameras, start interviewing people, start interviewing students."
Franklin said, "There was no attempt to grab, no attempt to be harmed, just someone being followed."
Franklin wants students to take precautions. He said, "Be careful with your surrounding areas. Be watchful. If you see something say something. Please use our escort system, call us and we will be happy to escort you to your residence hall." If you have any information or see anything suspicious contact Campus Police through BC Cares Student Concerns and Anonymous Crime Tips.