From China to Spain to the USA
How living in three different countries shaped Jia's life
Bridgewater, Va.- Visiting Assistant Professor of Spanish Yuting Jia has lived in three countries throughout her life, including China, Spain and the United States. Her international experiences have shaped her global perspective on education, interpersonal connection and life.
Jia is originally from Changsha, the capital of China's Hunan province, where she lived until finishing her undergraduate studies at the age of 21. 
During Jia's childhood, there was a strong focus on academics and education. 
"If I could use one word to describe what it was like growing up in China, it would be 'study,' said Jia. "Here, kids are encouraged to do things like sports, playing music and to have their own interests. In China, due to the limited resources, everyone wants to go to a good university, and there is huge competition."
While Jia explains she had to study hard during her youth due to this competition, she also recognizes that she had a normal childhood. 
"We were kids—normal kids," said Jia. "We didn't like to study, so we found some sort of entertainment, but we couldn't ignore studying. It is a very, very important topic for every Chinese student."
Following her undergraduate studies in China, Jia moved to Salamanca, Spain for four years to study at one of the oldest universities in the world, the University of Salamanca.
Established in 1134, the University of Salamanca is Spain's oldest institution, and the world's third oldest. Jia completed two master's degrees at the university before moving to the United States. 
"The thing that surprised me the most was the similarity between Europe and China, because they both are old and have maintained traditions," said Jia. "The similarity is about the interpersonal relationships; they are very close. I was very familiar with this kind of connection, so it was really easy to put myself in that kind of society."
After completing her master's degrees, Jia was at a crossroads of where to go next.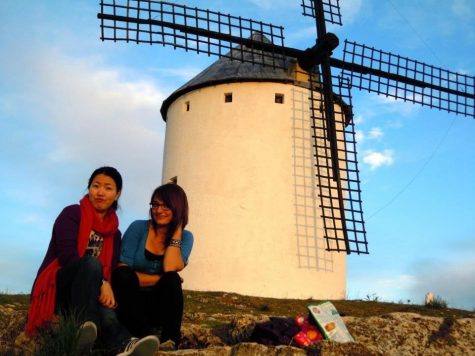 "I had several options," said Jia. "I could either go back to my country, or continue exploring a little bit more of the world. The U.S. never really was my plan."
During a trip to New York state, Jia's friends at Niagara University suggested she learn more about the departments she was interested in. 
"I went to the department of Romance languages and literature, and the chair at that time was from Spain," said Jia. "I searched for information and found out that he was having office hours that day. I went there, knocked on the door, and he suggested that I apply to the PhD program in Spanish Literature." 
Sure enough, Jia was accepted into the program and completed her PhD in Buffalo, Ny. 
"Talking about the U.S., I would say the similarity is very small, because this country is new and has a lot of communities, and people are trying to maintain their own style," said Jia. "In China, the majority of people really are the majority, so if a person is a minority, it is really hard to maintain their own space."
Jia explains that one of her favorite parts of the United States is that people respect other cultures and backgrounds.
"That's the part I really enjoy and find myself more in the U.S., because I'm allowed to be myself."
It has been 13 years since Jia last visited China, and she recognizes that living across the world has changed her perspectives on life. Additionally, she has developed a unique perspective when it comes to world issues, such as U.S.-China relations. 
"Moving from different places helped me be a more peaceful person," said Jia. "Now, when I hear comments about my country, I don't really feel offended or attacked. I feel like people can have comments and their own perspective, and I feel comfortable with it."
Because of living internationally since the age of 21, one of Jia's takeaways is the value of connecting with people from a variety of cultural backgrounds.
"In BC, we don't have a big international population," said Jia. "When they show up, it's a good opportunity for students to learn how to get used to talking and associating with different people. It's something that is very useful for the future."