"From the Sublime to the Surreal" Art Show Opens Across Campus
Bridgewater, Va.- On April 17, the art department's 2023 senior thesis show, which is titled "From the Sublime to the Surreal" and features work from over 20 students, opened at eight locations across campus.
The Beverly Purdue Gallery includes work from eight student artists, with other exhibits in the Eagle's Nest, the lobby of Bowman Hall, the third floor of Bowman Hall, Memorial Hall 24, the Center for Engaged Learning, the Black Box and the Art House located at 429 E College St.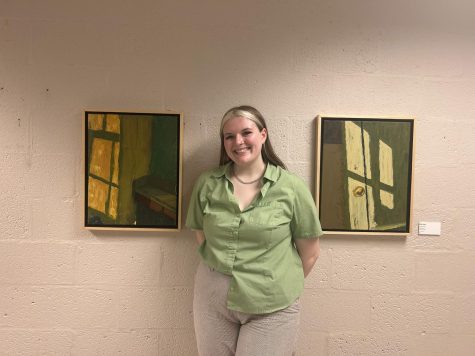 "It's been crazy," said Associate Professor of Art Michael Hough, who worked to install each of the exhibits. While Hough is usually responsible for installing a majority of the work in the Beverly Purdue Art Gallery, the senior thesis show presents unique challenges as the exhibits are spread across campus.
The senior thesis exhibits opened with a reception and gallery walk that was attended by faculty, staff, students and the families of some seniors with work on display.
"This is my favorite afternoon of the academic year," said Dean of the Rhodes School of Arts and Humanities Betsy Hayes. "I just love the gallery walks."
Art exhibits included paintings, sculptures, videos and more.
"This is an interactive art show that displays all the work I've created over my college career," said senior David Brown, whose work was a digital gallery displayed on a computer that visitors could explore. "There are six rooms, each displaying different themes of pieces. Every room I break a rule of physics in a way to illustrate that theme. I really wanted to bring imagination into this project."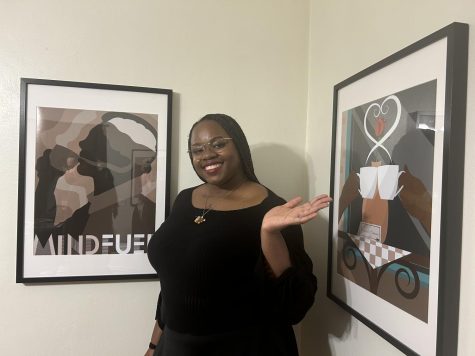 The student art exhibits also showcased a variety of artistic techniques.
"I work in a very small studio in Memorial where I can touch all four walls if I stand in the middle and reach out my arms," said senior Courtney Larrick, whose exhibit focused on paintings she made of the various ways the sun hits areas of her studio. She worked directly from what she saw and used a palette knife instead of a paintbrush to capture more texture in her works.
Often, students' art referenced other parts of their lives on campus.
"My art is a collection of coffee themed illustrations," said senior Larissa Niles. "They were basically inspired by my experience at Smitty's where I'm a barista. Coffee has become a very influential part of my life. It's just because Smitty's is such an important place to me on campus, I decided to make my whole project about it and make everything coffee themed."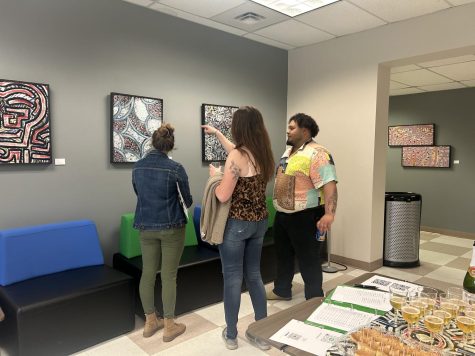 Some student art also reflected very personal aspects of their lives.
"After living in my Salvadorian culture, I realized there is true beauty there in the colors they use on buildings, the street art on the wall, the textiles I saw walking around and the architectural designs," said senior CJ Romano.
The show is open to the public until April 28.