Coordinator of First Year Experience and Orientation Marc Lonett to Leave BC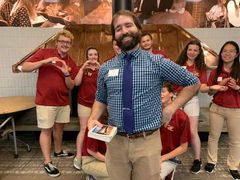 Bridgewater Va. – Marc Lonett, coordinator for first year experience and orientation, has decided to leave his position in Student Life to pursue a position at Big Brothers Big Sisters of Harrisonburg/Rockingham County.
Lonett will be taking a position as coordinator of the sports buddies program for Big Brothers Big Sisters of Harrisonburg/Rockingham County, where he will be able to use his experiences of leadership and coordinating welcome week programming to contribute to the local community.
 "Sports and activity has always been a passion of mine," said Lonett. "I'm looking forward to being able to create opportunities for mentors and mentees to be able to get together to be active, to play, to be engaged and to have really good conversations."
 Lonett hopes to develop partnerships between Big Brothers Big Sisters and Bridgewater College.
 "A lot of individuals see JMU as this big school that would be a great partner, but Bridgewater is a great resource that we could find partnerships with either athletics or clubs and organizations," said Lonett.
 Lonett began his career at BC in September of 2017, after working in the leadership department at JMU. In the beginning, Lonett focused on further developing the Soar Mentorship Program.
 "We wanted our first-year students to have access to a living, breathing resource," said Lonett. "It seems like students are much more comfortable going to fellow students as opposed to professional staff, so we expanded the Soar Mentor Program to encompass that."
 Lonett's expansion of the Soar Mentor program also shifted the idea of what kind of person would be chosen to be a mentor.
 "We're not looking for a cookie-cutter, perfect student," said Lonett. "We're looking for someone who is a good leader, yes., but we're also looking for someone who is passionate about Bridgewater and someone who is teachable."
 Lonett's approach to his position has not been that of simply a supervisor or coordinator. His work is much more hands-on, connecting with the mentors and first-year students as well as fellow professional staff and faculty.
"I genuinely want to get to know students," said Lonett. "I'll come to events and ask the students what they like. I'm very involved in the programming of welcome week and of FILA-150, but I take a lot of feedback from first-years and mentors about what college students really like to do. I can create programming, but I don't always know what students want to do."
 "I'm definitely going to miss every student I've gotten to know over the past four years, and I'm really excited to see where your paths take you," said Lonett. "That resiliency that a lot of our students and staff have lived through and worked through, don't let that energy go. Hold those victories close to your heart. The spirit of Bridgewater College will always be in your heart, even after you leave."