Spiritual Life Board Hosts Easter Event
Bridgewater, Va.- On April 12, the Bridgewater College Spiritual Life Board hosted an Easter event on the campus mall in front of Bowman Hall. The event consisted of music, a devotional and some games led by junior board member Seth Spire. 
"I love being part of BCSLB because I enjoy being able to interact with more of campus and to spread God's love to more people. It can be hard to get to know people outside your close groups, and BCSLB facilitates new relationships. It's a group full of love and joy," said Spire.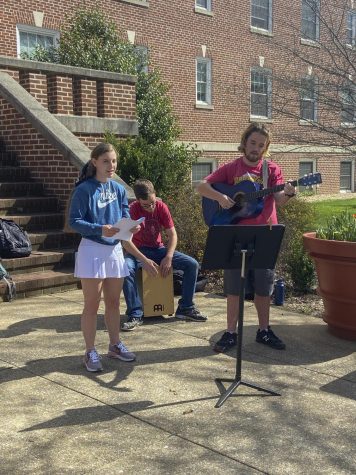 Juniors Maggie Hodnett, Andrew Nau and Aaron Nau of Engage's band Outspoken led the attendees in worship before the devotional. They perform weekly at Engage on Wednesday nights at 7 p.m.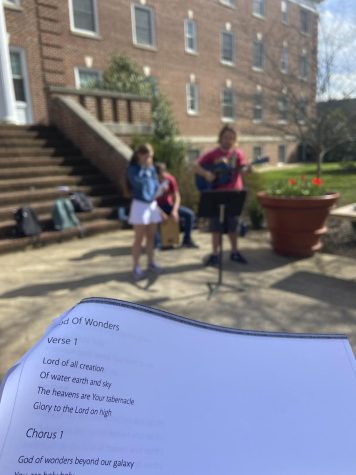 "I have been on the Engage worship team, Outspoken and attended their events for three years," said Hodnett. "I love participating in Outspoken because it is a light in the middle of my busy weeks and I can connect with people who also love Jesus. It brings friends who have the same interests as me: music and Jesus."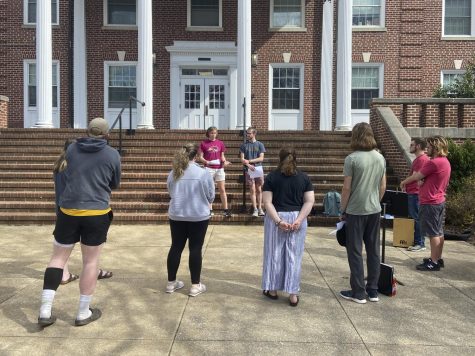 The devotional, delivered by Spire and junior Ben Riddle, was based on the disciple Thomas and his doubting Jesus' resurrection. 
Riddle has been on the Spiritual Life Board for two years. "It gives us the opportunity to show people how God is working on our campus and how we can spread His love to our community. I have grown closer to God and made great friendships through the board. I love it because we have the ability to further God's kingdom here on earth," said Riddle.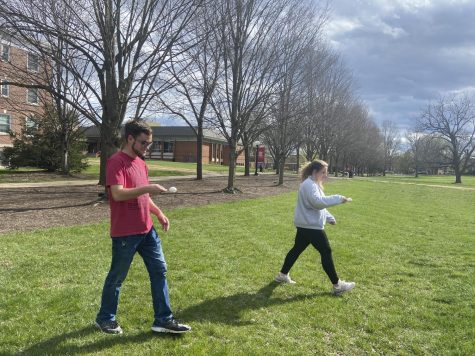 After the devotional were games beginning with an egg relay. Participants were given a spoon and an uncooked egg in which they could not break while running to a marked spot and back. "I enjoyed the egg races and just being there with others," said sophomore Jonathan Taylor. (Pictured are junior Andrew Nau and sophomore April Harper).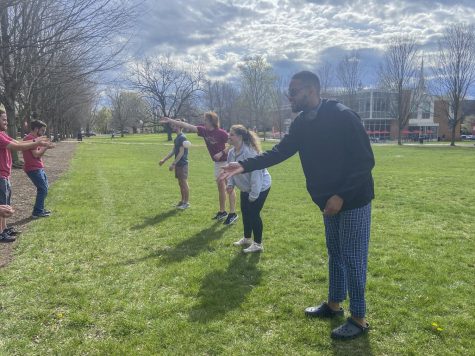 The second game that was played was an egg toss. Participants were to throw an egg back and forth and take a step apart every time the egg was thrown. "My favorite part of the event was the egg toss. Everyone was having fun and laughing and enjoying themselves. It was also fun to watch the raw eggs explode everywhere as people tried to catch them. Just out in God's creation having fun with new friends," said Spire.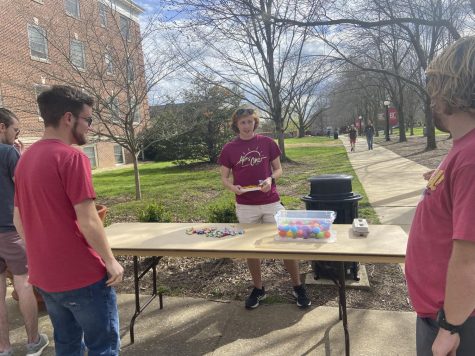 At the conclusion of the event, Spire handed out candy to students who came to the event.
"I appreciate that the Spiritual Life Board is welcoming and inclusive," said junior Ashley Martin.