Reflecting on the Past and Constructing the Present
Diversity Training Implemented at Bridgewater College​
Bridgewater, VA – Bridgewater College is looking to place a greater emphasis on diversity by asking students, faculty and staff to take part in a mandatory training module. The module, which was created by Education Technology company EverFi, has been selected by Associate Dean of Diversity and Inclusion Robert Bryant.
Before Bryant came to the college, there was no diversity training in place with the goal of building a better type of community. When Bryant was hired, a new format to educate the community about diversity, equity and inclusion became one of his numerous projects.
This training module is the first time that Bridgewater has done any sort of mandated, campus wide diversity training, online or otherwise. Bryant said that this new style of training has been in the works since early last year and that he wanted the training to be accessible so students have had the chance to work on it on their own time.
Bryant said the reason for this training is so people can learn more and better ways to interact with others.
He said, "We have these different identities that kind of shift depending on where we are and even what is happening in that day. Those identities have been socialized as we have grown up, and now that we are in a learning environment, it gives up the opportunity to kind of explore that space and have a better sense of who we are. The training focuses on those different identities but also how those identities play out in different spaces."
"
How great would it be to be able to say, 'I took a specialized course in diversity, equity and inclusion…'"
"Students, faculty and staff all have other obligations, and the diversity training is an opportunity to say, 'hey, this is something that might help us all learn and grow as a community,' so we want this to be user-friendly. It was more on the idea around this being accessible and not being an extra thing to attend to."
EverFi is the same company that designed the alcohol and drug training module that incoming freshmen take. Bryant said this group has an array of portfolios which all consist of the newest developments and research.
The diversity training module is mandatory for students, faculty and staff. While it is not mandatory for graduating seniors to take, it is encouraged.
The college has placed a pre-registration hold on all students and that hold will only be lifted if they complete the training module.
"Pre-registration is around March 21, and hopefully everyone will have it done before then, so we can release those holds. We recognize and we are doing everything that we can to remove the holds as soon as we get reports that students have completed the module."
In regard to seniors, Bryant said the benefit of taking it is the marketing aspect of it.
"How great would it be to be able to say, 'I took a specialized course in diversity, equity and inclusion and then when you get into the interview you can expand upon what you learned. It makes you look more marketable and of course that is not why we are doing this; that is just another plus for students who are getting ready to graduate."
Bryant said the module itself is incredibly interactive. There are videos, reflection pieces and overall it gives the user the opportunity to think about how they interact with people, as well as how those interactions are perceived.
About the Writer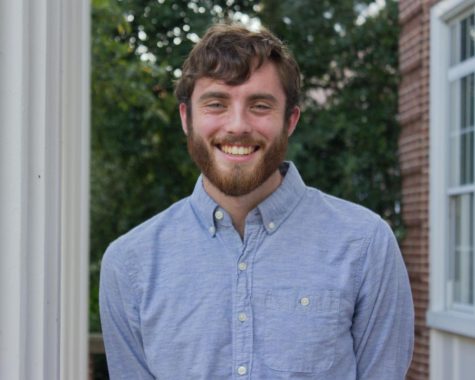 Holden Andrews, Editor in Chief
Photo by Mary Monaco
Communication, Technology,...