Shrum Memorial Garden Neglected for Years
Bridgewater, Va. – Bridgewater College's Shrum Memorial Garden, which was installed around the greenhouse area by McKinney Hall, has been left in various states of neglect over the past decade.
The garden and its koi pond were originally installed under the direction of former Professor of Biology L. Michael Hill and maintained by him and the college's landscaping crew until Hill retired in 2007. 
Funding for the garden was provided by Richard Shrum, class of 1937, in memory of his parents for their sacrifices to pay his tuition. The pond was a gift from the class of 1998.
"Diversity is the key to any garden," Hill wrote about the garden in a photo caption. "You can stand there and stare into it all until the entire presentation blends into a synthesis of beauty that becomes your personal experience."
The garden originally showcased diversity among plant species, which led to colorful varieties among the trees, shrubs, and dozens of flowers planted there. The rainbow of plants originally included hollies, Crepe Myrtles, crocuses, hyacinths, waterlilies, a variety of daylilies and irises and more.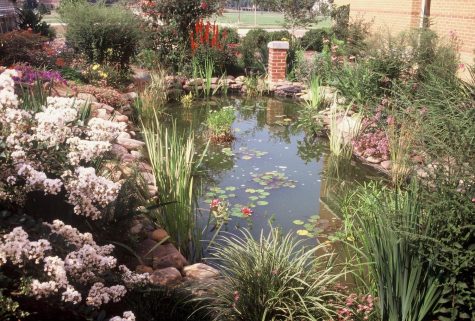 "After I was hired, I'm not a gardener, so I kind of let grounds crew take care of that. As grounds crew turned over, they just kind of neglected it, and it has been in neglect for ten or twelve years," said Associate Professor Biology and Environmental Science Edgar Lickey. "Especially the past five years, very little landscaping maintenance has been done at all. Part of that is people have left Bridgewater and have not been replaced, so you only have a few people doing what a normal complement should have been."
While the garden was intended to show plant diversity, many of the original species planted are now gone due to lack of maintenance. The remaining plants are overgrown or weeds. Pathways through sections of the garden are either overgrown or worn away. 
Until a couple of years ago, the  garden's koi pond was maintained by Valley Water Gardens, located in Dayton, Virginia. However, once the pump in the pond broke, the koi fish were removed and maintenance stopped. Currently, the pond is full of brown, stagnant water.
"I always enjoyed its beauty while working there," said Kevin Lam, a campus safety officer who previously worked on landscaping with the college. "About its current condition, all I can say is that the crew maintaining the campus in the early 2000s was more than twice the size it is today."
While facilities and support services are aware of the condition of the Shrum Memorial Garden, landscaping work has been focused on other sections of the college.
"It seems it's one of those things that is out of sight, out of mind," said Lickey. "No admissions tours go past it; it would be a lovely thing to highlight if it was actually a nice place. Right now… there are benches out there. People used to go sit out there to have lunch. There's no point in doing that now because it's just a weed pit."
Grounds Supervisor and Horticulturalist Robbie Kuykendall did not respond to requests for comment before publication.