Stephen Longenecker Shares with Faculty, Staff and Students About What Matters to Him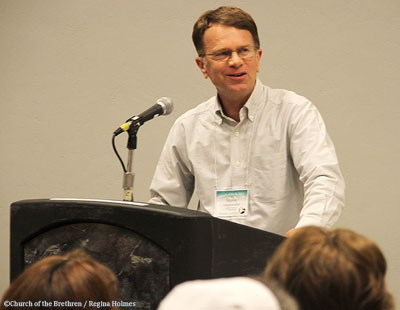 Bridgewater, Va. – Bridgewater College Chaplin Robbie Miller hosted Professor of History and Political Science Stephen Longenecker on Tuesday, Feb. 23, at 7 p.m., for him to share what matters to him. 
Miller hosts the discussion series a few times throughout the semester. Whoever speaks at the event leads the discussion with their views on what is most important to them. 
Longenecker, who is retiring at the end of the academic year, discussed his views about spirituality, religion and giving back to communities near and far. 
"Maybe the call is to make a special effort," said Longenecker. "Call to make a difference…one person can change the world." 
Longenecker emphasized the importance of giving back to communities that are not your own, and he urged those listening to give back to people who are not in your own space. 
"It's much too easy to look at other people in the world and think, oh they'll do it," said  Instructor of History and Political Science Doug Harmon. "That can happen, but I think God has to be there as the constant motivator." 
Students, faculty and staff all participated in the discussion led by Longenecker. Everyone was encouraged to share their thoughts and opinions about what matters to them. 
"The intention of this is to nurture a deeper sense of community and connection on our campus, and we do that by gathering whether in-person or via Zoom, to hear members of the community say what matters to them and why," said Miller. "Which we can all appreciate even if it is different than what matters to us." 
The gathering has been held in the Boitnott room in previous years, but due to COVID-19, the session was held on Zoom. This was the first-year students had the opportunity to participate in the discussion. 
"Dr. Longenecker leaves Bridgewater College with the expectation that we will continue to grow as an institution and do something to make a difference, bring about change, and fight for social justice." said sophomore Shifa Tewari. "This resonated with me, and though I am not particularly religious, I will remember his message and carry it with me as I become an educator." 
These discussions are held about once a month to start a conversation among students, faculty and staff. The platform allows for a conversation from many different perspectives. It creates a safe space for those to hear and understand perspectives that may be different than their own. 
"It was amazing to hear a professor I respect and admire discuss what is important to him," said senior Annabell Knapp. "I took away an even deeper understanding of how important social justice is to the world of academia, and we cannot just speak our values but we also need to act on them."