A Seasonal Community Tradition: BC Thanksgiving
Students, Faculty and Staff Gather to Celebrate and Give Thanks Over Holiday Foods
Bridgewater, Va. – On Nov. 18 at 5 p.m. students were lined up outside the KCC Dining Hall waiting to be a part of Bridgewater College's annual Thanksgiving dinner. 
Traditional Thanksgiving foods were served such as turkey, mashed potatoes and gravy, stuffing, green beans, mac n cheese, rolls and pumpkin pie.  
"The best part about the dinner was the dessert. There were different varieties of classic Thanksgiving pies and cakes," said senior Eric Leasner.
Other students, such as junior Diamond Hawkins, made sure to get there early enough to eat the most popular foods.
 "This is the first time where I've been here early enough to be able to eat their pumpkin bread. It's so good, I've had about two pieces already," said Hawkins.
Last year, students were not able to participate in the BC Thanksgiving dinner due to the COVID-19 pandemic and restrictions on social gatherings. This year students were able to gather and enjoy their meal with each other once again. 
"We are a community, and we haven't been able to be together for quite a while. This gave everyone an opportunity to reconnect and be a part of a family," said Ricky Reiss, assistant director of residence life.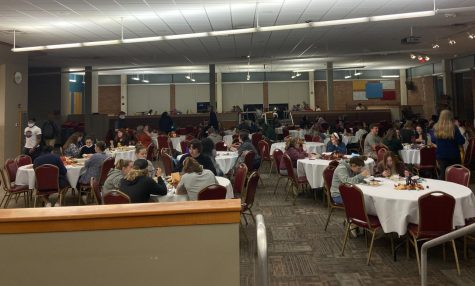 More than 25 faculty and staff volunteered to serve the meal, set-up, and decorate. Carving the turkey was President David Bushman and his wife, Suzanne Bushman. 
"It brings the community together. A lot of people come together to be a part of this. I like seeing how many people gather together in this and being friendly to each other," said senior Katy Mattox.
During the evening, Student Life had a table set-up that gave students the opportunity to write what they were thankful for on a leaf that would be placed on an image of a tree. Common responses written on the leaves were friends, laughter, family, the outdoors, roommates, food, professors and rest. 
As students and staff entered or exited the event, the Spiritual Life Board was tabling to encourage individuals to write a note of gratitude to someone they were thankful for. The note would then be sent to the recipient's campus mail address.