The Festival of Color Finds its Way to BC
BC held its first celebration of the Indian holiday Holi, also known as the festival of color, on Saturday on the campus lawn. "Holi is celebrated by almost all cultures in India," said Gauri Pitale, the associate dean of students for diversity, equity and inclusion. To start, everyone threw their first handful of dust into the air at the same time, creating large clouds that quickly drifted off in the wind.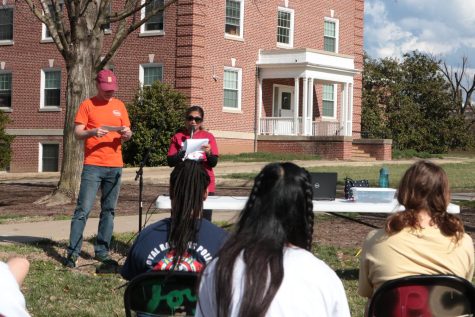 Before the festivities began, Pitale gave a short talk to the participants about her culture and the significance of the festival as a celebration of the end of winter and beginning of spring – as well as the triumph of good over evil. "This was meant to be fun, but I also wanted them to learn something and leave reflecting on their own cultures," said Pitale.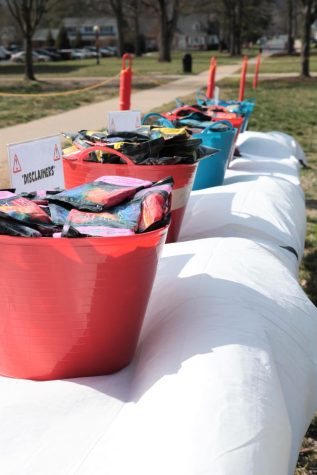 "[I knew] very little [before coming]," said first-year Jadon Goldsmith. "I just knew it was a bunch of dust going around."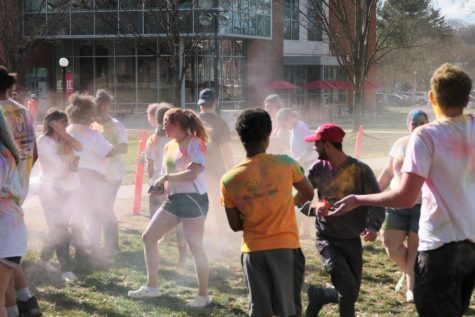 The first throw launched a free-for-all in which participants were allowed to throw dust at anyone within the roped section of the lawn and to continue to grab more dust as they ran out. "I don't know how many of them had ever heard of Holi, so it was nice to see them come try something new," said Pitale.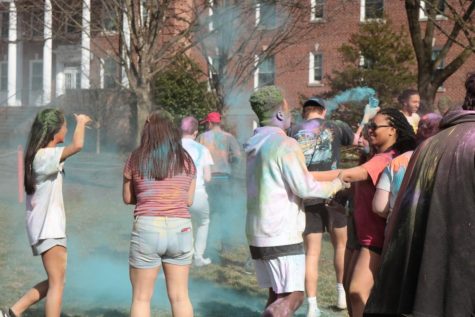 The dust spattered the participants, many of whom had worn white for the occasion, with bright color. "[I came] to get messy," said Goldsmith.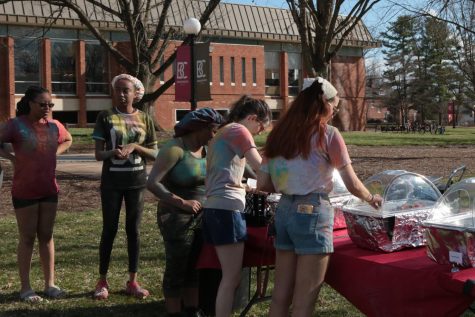 Once the dust had run out, participants were invited to stay and socialize while eating kebabs. "We believe that part of what a liberal arts education should include is an exposure to different religions and cultures around the world," said College Chaplain Robbie Miller.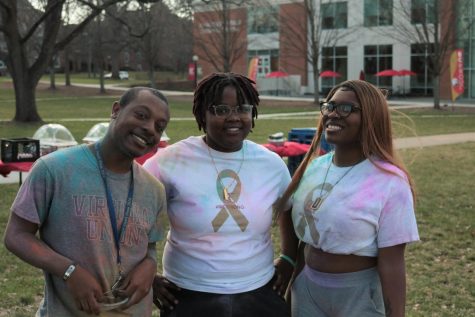 Pitale gave a brief description of the holiday, but there is much more history and tradition that could not be explained in one day. "I absolutely want to learn more," said junior Ambria Brennan (right), standing with first-year Anthony Blow (left) and junior Shaleria Bradley (middle).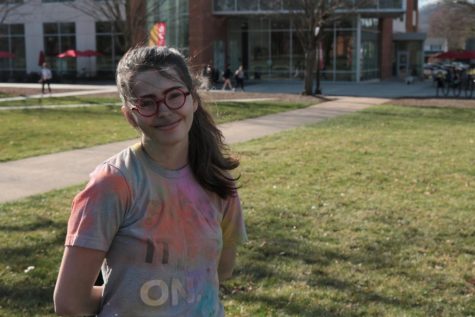 The event organizers quickly packed up after the food was gone, skipping the fire pits originally planned. "It was great," said sophomore Ella Lucas. "They should definitely do it again."