College Announces New Rebecca Quad
Bridgewater, Va. – On March 29, Bridgewater College announced that construction will start this summer to create the Rebecca Quad, an outdoor gathering space near the KCC, thanks to a $1 million gift.
The Rebecca Quad is part of a long-term plan for improving the college's capital and grounds that has already included improvements to the KCC, Nininger Hall and the creation of the FLC. Along with the Rebecca Quad, there are plans to renovate Bowman Hall and the Old Alumni Gym.
"Plans for the space include hardscape walkways and gathering areas complete with dining tables and adirondack chairs, landscaping to complement that of the campus mall and—notably—a nod to the College's original walkway and historical entrance to campus, which will be highlighted by a large inlay of the College's seal," stated the college's news release.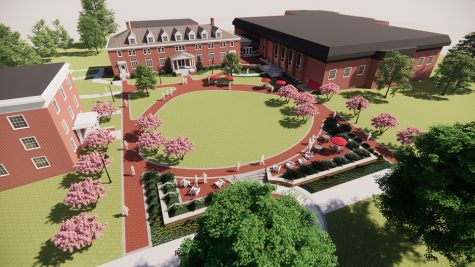 Construction of the Rebecca Quad has been made possible by a $1 million gift from Bruce Christian, chair of the College's Board of Trustees, and his wife, Spas Christian.
"The Rebecca Quad is an example of the donor being passionate about the outdoor engagements of students with each other; the serendipity that happens between faculty and students when you're given a chance to have a public place to convene," said Vice President for Institutional Advancement Maureen Silva.
Silva and the Office of Institutional Advancement develop donor projects following the priorities of BC's Strategic Plan for 2025. 
"A donor doesn't come to us with an idea and say 'we should do this' without it fitting within the Strategic Plan," said Silva. "The Strategic Plan for 2025 articulated the need for additional outdoor gathering spaces, and these donors expressed an interest in what that might look like and how their generosity can help bring those spaces to life."
The announcement, which was also posted to Instagram, received several comments, including some criticisms.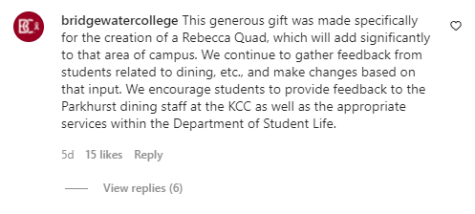 "This generous gift was made specifically for the creation of a Rebecca Quad, which will add significantly to that area of campus," responded the college on Instagram following complaints not about the plans but other areas the students said need attention. "We continue to gather feedback from students related to dining, etc., and make changes based on that input."
Other social media posts questioned the timing.
"I also feel like the Rebecca Quad is going to add to a space that doesn't really matter right now to students," said junior Kayla Scott. "Maybe the announcement came off the wrong way."